After four wonderful children, I thought I was done, but then …
I have a few things in common with British chef Jamie Oliver. We share the same nationality, a love for food — he loves cooking it and I love eating it — and we both have four children. So last year, when the news came out that Oliver and his wife were expecting a late fifth baby, that little question popped into my head … just one more?
Then my mental pros and cons list kicked in, and within about 10 whole seconds I discounted the idea — flat. Firstly, I'm getting old (ish … well 42 is actually very young really!), and it could be pretty risky health-wise. I also don't think my body could cope with putting on those extra pounds — it's still trying to recover from eight years ago — but what really sprung to mind was that old saying "count your blessings." And I have four very concrete blessings who I never want to take for granted.
Read more:
Catholic Myths About Big Families
My eldest, a charming 17-year-old boy, is surprisingly easy (especially when I let him lie in bed all Saturday morning) and my youngest, an 8-year-old terror, is a real mommy's boy — which I try not to encourage, but he is my baby and who can resist a hug? They're my little gang who keep me busy, exhausted, stressed, amused and loved. I cherish being a mom and have always been very thankful that it happened so easily. I know I'm lucky, exceptionally lucky. But strangely I still have that yearning to hold another little bundle in my arms.
This was compounded when I saw my little nephew for the first time. I had fleeting pangs of sadness that I will never have another baby kick me … from the inside. I will never go through those pains of giving birth again with the accompanying delights of holding that tiny little being that you swear to protect for the rest of your life. I know I'm being ridiculous — and greedy. Four children is incredible. It's a success in itself to bring these little babies into the world and for all to remain healthy… and sane. There is just something so endearing about a newborn's fragility and that tiny baby odor begging to be bottled and sold in Sephora. I want to do it all again!
Or do I? I ask myself why I have these yearnings. As an aunt to 16 kids of all ages, with more to come, it's not as if I'm bereft of babies in my life. Dr. Sarah Brewer, a leading medical writer and author of many books including I Want To Have A Baby? has summed up the notion of broodiness as "a complex hormonal interaction with the female parts of the brain." She adds: "The drive to procreate and reproduce is instinctive. That instinct is what has kept the human race going." But I don't think that is it. I've done my part in keeping the human race going.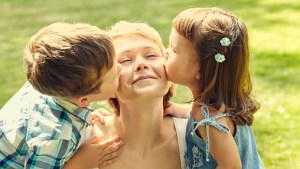 Read more:
The advantages of having children close in age
Brewer also suggests I might be experiencing these waves of broodiness because "woman may be lonely and need to feel loved. Perhaps it is to keep a relationship together, or to compete with a friend or a sibling." Again, not in my case. Maybe it is a question of timing? I generally get these broody urges around the time when school is nearly out and I start to think of my kids' next steps, and how each step will take them a little further away from me. This brings those mixed emotions: excitement as to what they will become, and trepidation as to what I will become. Is it a pre-empty-nest warning? I don't think so. Honestly, I'm quite looking forward to the freedom of not having to cook healthy meals for my children three times a day and my return to living off cereal. I'm also eagerly awaiting the ability to schedule a holiday without first consulting the school vacation calendar, and not having to stand in the cold during those endless late-season soccer games.
So, perhaps I should blame my mother. She gave birth to nine children and raised us with apparent ease (even if we were never witness to how she must have felt through the more chaotic and exhausting times), and even seemed to thrive on it. My siblings and I are incredibly close, we have been all my life and still are. They are my best friends, my biggest critics, they love me unconditionally — even when I forget their children's birthdays — and they are my most loyal supporters. It's difficult not to want to replicate that! I want my own children to know the sense of security that being part of a large family can offer; there is someone there for you, always. People get this same sense from extended family or a strong church community. Belonging to something makes us feel good, and provides us with strength and confidence through all the different hurdles in life.
This really is my most logical explanation for those baby yearnings; making sure I build a little army ready to defend my brood as they go through life. As mothers, we naturally protect and fight our children's causes on a daily basis, from encouraging them to eat healthily, to endlessly talking with teachers about the best way to motivate our children to learn their multiplication tables. Strength in numbers is the ultimate protection, so perhaps that what kicks my maternal instinct into overdrive … and the desire to overproduce!
Whatever the reason, the one thing I know for sure is that whenever I see a delicate swaddled bundle, I will always get that urge to pick it up and stroke its little hands. So if my 17-year-old mini-man is a decent enough son, he'll find the perfect girl (obviously just like his mother) and not wait until he's 40 to have his first child … or twins. Now that would be great, especially since I could give them back when they cry!