This Doctor of the Church was a real Renaissance woman.
Need an idea for Lenten almsgiving?
Help us spread faith on the internet. Would you consider donating just $10, so we can continue creating free, uplifting content?
Make a Lenten donation here
Having established herself as an authority in theology, philosophy, science, medicine, Christian mysticism and natural history, Hildegard of Bingen was one of the most remarkable people of the Middle Ages. This Doctor of the Church was a real Renaissance woman. Elected abbess by her Benedictine community at the age of 38, she founded two additional monasteries during her 45-year tenure.
Hildegard wrote three great volumes of visionary theology, as well as another two volumes of material on natural medicine and healing. She was one of the first to invent an alternative alphabet, called Lingua Ignota, with which (like J.R.R. Tolkein, later) she invented new words for her poetry and lyrics. She is also responsible for one of the largest existing collections of letters from the Middle Ages — over 400 pieces of her correspondence with popes, emperors, abbots, and more have survived.
With so many achievements it is easy to overlook the fact that St. Hildegard was also an innovative composer of music. There are 69 musical compositions credited to Hildegard, which makes her one of the most prolific composers of the Middle Ages. The majority of these pieces were liturgical — hymns or settings of the Mass or the texts of the Divine Office — but her greatest work was an operetta prototype called Ordo Virtutum.
Her interest in composition developed shortly after Hildegard's enclosure as a Benedictine oblate, while taking lessons in psalm notation from a monk named Volmar, who would become a life-long friend. She learned to play a 10-stringed psaltery, a hand-held harp, and began writing liturgical works.
Hildegard's liturgical pieces were collected into a cycle called the Symphonia armoniae celestium revelationum. The songs range from antiphons, hymns, and sequences to responsories.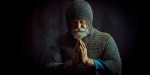 Read more:
The pre-battle chant of the Knights Templar


In the 1990s the choral ensemble Sequentia made an effort to record the saint's complete works over seven albums. One such album, Voice of the Blood, is a collection of chants Hildegard wrote in celebration of the legend of St. Ursula.
As the legend goes, Saint Ursula was a princess who was sent to join her future husband, accompanied by 11,000 virginal handmaidens. After miraculously surviving a storm at sea, Ursula made a vow to complete a pilgrimage before she could marry. She was on her way to Cologne, which was besieged by the Huns, when she and all 11,000 of her companions were murdered.
Hildegard's music clearly encapsulates the reverence she held for Saint Ursula, and the chants she wrote are as impressive as they are chilling. Her composition pushed the boundaries of Gregorian chant, which was the primary style of music composed during her time. The melodies introduced many instances of melisma (when a word or syllable is sung over many notes) a style which would become popular a century later.
Another mark of Hildegard's musical innovation is her use of monophonic structure (having one line of melody). This style is characterized by soaring melodies, which were very new and exciting in the medieval era.
Ordo Virtutum is the earliest morality play, a medieval theatrical genre in which the protagonist is met by personifications of various moral attributes who prompt the hero to choose a Godly life over one of evil. Hildegard's work anticipated the trend by more than a century. Composed in 1151, Ordo Virtutum follows the struggle for a human soul between the Virtues and the Devil.
The play may have been performed before the Mass for the Consecrated Virgins at the convent. Because it was performed by female religious communities, it was written for all female voices. The Devil is still played by a man, but his contribution is limited mostly to grunts or yells, because Hildegard reasoned that the devil would be unable to produce "divine harmony." Scholars assert that the role of the devil would have been played by her monk friend, Volmar.
A shorter version of Ordo Virtutum appears at the end of Scivias, the first of her great visionary theological works.