This beautiful Labrador Retriever and Pitbull mix has an effective and unique sense for spotting disease.
What can God do in your life with one Bible verse a day?
Subscribe to Aleteia's new service and bring Scripture into your morning:
Just one verse each day.
Click to bring God's word to your inbox
Lung cancer is a very aggressive disease, precisely because it develops in silence and generally can't be detected until it is already in a very advanced stage. Getting an earlier detection method for this type of cancer is critical for improving treatment and survival rates.
Read more:
5 Incredible Real Stories of Dogs Rescuing Humans
The Clinical Respiratory Institute of the Barcelona Hospital Clinic recently published in the European Journal of Cardio-Thoracic Surgery the results of a research project on detecting lung cancer earlier in a very effective and original way. Ingrid Ramon, owner of Blat and director of the company Argus Dogs, helped train the dog to detect lung cancer with an accuracy rate of 95 percent, even when the cancer is still in its earlier stages, measuring only four millimeters in diameter.
To teach Blat, the trainers spent six months giving him a prize every time he sniffed out cancer. They placed wooden boxes with a test tube inside them containing the breath of various people, one of them with lung cancer. Blat has learned to detect it and sits in front of the tube containing the breath of the sick person.
Using dogs in a medical support role is not exactly new; aside from seeing-eye dogs, there are also dogs that help people with severe diabetes to detect moments of hypoglycemia so that they take their medication on time. But this is the first time a dog has been used to smell lung cancer, so Blat is a pioneer.
The deadliest cancer
According to the Spanish Society of Medical Oncology, lung cancer is the most frequent in the world and causes the most deaths each year. The problem is that it presents no symptoms until it reaches very advanced stages, and it is usually detected accidentally during chest x-rays.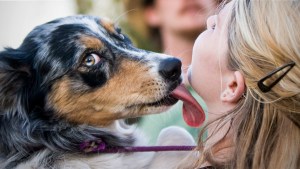 Read more:
Want a healthier gut? Get a dog!
Our breath, which comes from our lungs, contains substances from the tumor which the dog can detect. The researchers' task now is to learn to single out, from the 3,000-plus organic compounds that our breath can contain, the particular ones that are typical of a person with cancer. After that, the researchers plan to develop a new (non-canine) method that can be applied in any hospital or clinic. Once the test is developed, it could certainly be called the "Blat test" for lung cancer screening.
This article was originally published in the Spanish edition of Aleteia and has been translated and/or adapted here for English speaking readers.