These communities are raising awareness about "purple" crying to save infants' lives.
What can God do in your life with one Bible verse a day?
Subscribe to Aleteia's new service and bring Scripture into your morning:
Just one verse each day.
Click to bring God's word to your inbox
Each year in the U.S., there are approximately 1,300 incidents of shaken baby syndrome (SBS), a type of abusive head trauma that results from aggressively shaking an infant or toddler (even for only a couple of seconds). Of these incidents, 25 percent are fatal and the remaining victims usually suffer long-term neurological disabilities.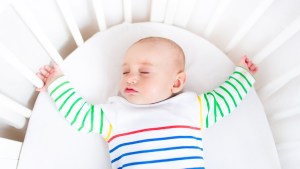 Read more:
Where should babies sleep? The answer is … complicated
Fortunately, nearly every case of this is preventable. The primary cause of SBS is increased crying from an infant, resulting in frustration from a parent or caregiver. The heartbreaking truth is that many parents and caregivers cause this damage unintentionally, because they're unaware how harmful one frustrated shake can be to a small child.
That's why the National Center on Shaken Baby Syndrome has launched the "Period of PURPLE crying" prevention program to educate parents and caregivers about certain stages during which an infant may cry more frequently and for longer periods of time.
Each child is unique and some infants may cry more than others or be more easily soothed than others, so increased crying doesn't necessarily mean that the parent is doing something wrong. In the acronym PURPLE, each letter stands for a piece of information to remember about increased crying. For example, the "R" stands for "Resists Soothing" as a reminder that sometimes a baby will continue to cry no matter what you do to soothe them. The "L" stands for "Long-lasting" as a reminder that it's normal for some infants and toddlers to cry for up to 5 hours a day.  Their website encourages parents, "The word period means that the crying has a beginning and an end."
In order to bring greater awareness, the Click for Babies campaign has been launched, the name being inspired by the click of knitting needles. In 15 states around the U.S., this campaign has been adopted by communities who are knitting purple baby hats to donate. These hats will then be distributed to parents along with information on PURPLE crying and SBS.
The Click for Babies website even offers information on knitting patterns and infant-safe yarn to use. Then, the knitters drop them off with organizers in their areas by September 30!
So don't delay! There's still time to get involved and help spread awareness that can save infants' lives.