St. Therese is the mortal enemy of spiritual mediocrity and the lukewarm.
What can God do in your life with one Bible verse a day?
Subscribe to Aleteia's new service and bring Scripture into your morning:
Just one verse each day.
Click to bring God's word to your inbox
What words would you use to describe Saint Therese? Gentle. Innocent. Child-like. Trusting. Loving. Passionate. Hidden. Little. These and many words like them come to mind.
May I suggest another word to describe her? It's a word you might not expect, a word you may well find to be surprising, even jarring, perhaps disturbing. I would describe Saint Therese as "dangerous."
Dangerous?!? The Little Flower? How could this be? How could the apostle of spiritual childhood be dangerous? Who could find her threatening?
Therese is a danger to those who've resigned themselves to spiritual mediocrity. She's a threat to every soul that will not dare to aspire to holiness. She's the mortal enemy of the lukewarm.
Therese takes away every excuse, dismissing every good reason we can give for not being holy, for not at least striving after sanctity. She's proof that great holiness is possible for every soul, and so our lack of sanctity is a matter of our own will, rather than our luck or our circumstances. In other words, Therese's message is this:  If we're not holy it's because we don't want to be.
But holiness is hard, today
We who are content, even resolute, in our mediocrity, have all our excuses well trained and neatly arranged: We can't really be holy because it's too hard. God hasn't blessed us with the necessary character or strength. We have been burdened with lives that are too busy for the leisurely enjoyment of the things of God. We have families and businesses to attend to.
And our communities could never support us in a quest to become holy. Our fellow religious are too worldly and too uncharitable. Our parishes are divided, our liturgies uninspiring, our pastors are poor preachers. We've never been able to find a really good spiritual director; we don't have time to read Scripture.
We'll explain that Therese lived in a simpler time when holiness was still possible. We live in the age of AIDS and terrorism. The circumstances aren't right for holiness.
We the mediocre would explain, calmly but firmly, that everything within us and everything around us is simply not conducive to holiness. Therese was a special case. God must accept that people nowadays just aren't capable of great holiness. He must accept us as we have accepted ourselves, as lukewarm, as mediocre.
That's how we make our excuses.
But here comes Therese, who with a smile will blow down the maze of excuses we've constructed. She leaves us no place to hide from God or from ourselves.
And that's why she's dangerous. She will tell us that if we're not holy, we have no one to blame but ourselves.
So, now what do we do? If we're not going to run and hide, if we finally admit that Therese proves that the call to holiness is universal, what shall we do? It's tempting to put the burden all on ourselves: "All right, I'm going to grit my teeth and through a sheer act of the will imitate Therese in every way possible. I'm going to count to three and when I'm done I'll be a spiritual child and I'll be holy and then God will have to like me!"
But it's not by our own efforts that we become holy.
So what are we supposed to do? The paradox is that we're supposed to do nothing—God does all the work.
Consider this example: I was visiting with a family who has a 3-year-old son. As an after-dinner treat, little Jacob is allowed to watch an episode of Thomas the Tank Engine. The video collection is on a high shelf, well over his head. He could never reach it on his own. He stands in front of the shelf, with his arms raised, so that you can reach under his arms and lift him up to where he wants to go. Without any hesitation, without even asking, he just stands there with his arms raised, fully confident that he will be lifted up.
I think Saint Therese would say we have to do what little Jacob does:
We have to show up. And we have to raise our arms up and expect to be lifted. And we have to let God do the work.
We might say, "It's so simple that even a child can do it," but that's not quite right. It's so simple that only a child can do it. Let's stop making excuses. Let's stop squirming and struggling. Let's stop trying to make the ascent to holiness powered by our own will and wisdom. Let's just show up, raise our arms, and let ourselves be lifted up by the Father who loves us.
When I write next, I will speak of one of Therese's favorite books. Until then, let's keep each other in prayer.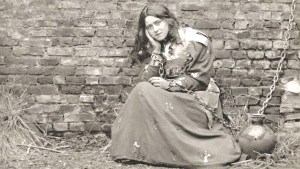 Read more:
Incredible photos of Saint Therese of Lisieux taken by her sister, Celine