Speaking from his pastoral experience, Fr. Paul Denizot shares how to make the most of this once-in-a-lifetime opportunity.
What can God do in your life with one Bible verse a day?
Subscribe to Aleteia's new service and bring Scripture into your morning:
Just one verse each day.
Click to bring God's word to your inbox
The date of the wedding is fixed. The reception venue has been chosen, the caterer hired. And crucially, the time of the Mass has been agreed upon. You've met with the priest who will preside at your nuptials, and you've discussed how you'll prepare for the big day. Your daily planner is filling up quite nicely with all the practical and spiritual tasks to do before you say "I do." You think you've got it sorted out, but the months to come will be jam-packed, with very little space to catch your breath.
While the journey you're about to embark on together is just beginning, it could end up being very long when you consider that life expectancy is longer for you than it was for your great-grandparents, although paradoxically the life expectancy of marriage is getting a lot shorter. So those few months of preparation before your wedding are absolutely vital. We spoke about this with Father Paul Denizot, from the French shrine of Notre Dame de Montligeon, who explained seven errors to avoid in order to make the most of your preparation.
1. Not confiding in those who are helping you prepare
It's often hard to open up in front of strangers, so it's no surprise that some young couples find it difficult to respond, ask questions, or give their opinions to the priests or couples who are helping them prepare for their marriage. This may be due to shyness, or to the fact that the couple is more passive and the spouses are just waiting for the rubber stamp from the priest to go ahead and marry in church. Yet, as Father Denizot points out, "It's absolutely crucial that the couple have the courage to confide in those who are guiding them, as well as to make the most of these moments together to exchange thoughts, and to open up. They won't get another opportunity like this to think about things this way, especially with the busy lives we lead today."
2. Not going to confession
At the start of the preparation, young couples are always advised to go to confession "to lay down before God their past and their future, and to rediscover the beauty of confession. It's an opportunity to take stock of their lives at that crucial moment before God."
3. Not looking beyond yourself
Some young Christian couples today seem to suffer from the dangerous affliction of selfishness. Both spouses are, separately, focused on their own bubble, consisting of their work and of the people in their immediate circles. Consequently, the spouses could run the risk of not being in communion with each other. However, Father Denizot has the perfect remedy: "I invite them, before their marriage, to give time and energy to others through charity work, outings, visits to sick children, etc. This helps prepare them to give themselves to their spouse and, eventually, to their children." It's through giving to others that the couple will be able to flourish. A marriage in which the spouses each focus on themselves ends up suffocating.


Read more:
Catholic Marriage Preparation Needs to Better 'Evangelize'


4. Not talking about your faith
Sometimes it's tempting to focus on the human challenges marriage brings, but it is necessary to take a look at the couple and their future with faith. The way in which the couple experiences this religious preparation can bring even more meaning and depth to their marriage. Not only will this allow the couple to rise above material issues; it will lay the groundwork for them to "be helped by the Christian faith during hard times, which is a precious treasure, as the faith always brings hope with it."
5. Not getting one-on-one time with the priest who's preparing you
Priests must take the time to truly engage each couple they are preparing. For this to work effectively, group training must be supplemented with one-on-one time with each couple, as not all couples are at the same point in their faith, their depth of reflection, and their love. "Although there are principles and general advice that apply to everyone, it is imperative to help couples question their own journey, their fears, their joys … Each couple is unique."
6. Being proud and believing you will never have problems
There are young couples who think they are so strong, so mature, and so in love, that nothing could ever happen to them. "While it's touching, it is our role to make them prepare for conflict, because it always ends up happening. And it's not such a bad thing. What they need to learn is to understand it, overcome it, get over it, and also forgive."
7. Getting overwhelmed by the wedding day preparations
In the build-up to the big day, it's important not to get too caught up in all the wedding details. Couples should leave time for contemplation and prayer together. On the eve of the marriage, they must try, if possible, to stop talking about all the practical arrangements; they should stop readjusting seating plans, and take time for themselves by doing things like going for a walk, reading, or singing. And finally, when it's time for the religious ceremony, Father Denizot reminds us: "It's done! Don't bother yourself with anything. Let yourself get carried away by the Mass. It's the Church who takes over. I ask the couple to give themselves over to us and to let us lead the way." It's at this point, after months of preparation, the couple can allow themselves to be flooded with emotion.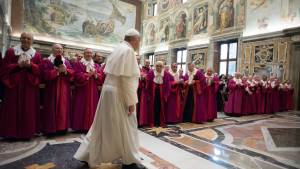 Read more:
Pope Francis calls for faith formation "before and after marriage"
This article was originally published in the French edition of Aleteia, and has been translated and/or adapted here for English-speaking readers.