The first thing that strikes you is their overwhelming musicality.
You can get Aleteia inspiration and news in your inbox. Our specially curated newsletter is sent each morning. The best part? It's free.

Sign up here

The Ayoub Sisters recorded this fresh arrangement of Lloyd Webber's "Pie Jesu" for their first, self-titled studio album. The pair of Scottish-born instrumentalists merged classical with pop for this crossover album, which also includes traditional Scottish songs, classical favorites, and pop songs like "Uptown Funk" and "Billy Jean."

The first thing that strikes you about The Ayoub Sisters is their overwhelming musicality. Not only do they each play two instruments, they have reached virtuoso levels of talent on each and

are able to change instruments mid-performance

. They also have no problem seamlessly switching gears from classical to jazz.

They were first discovered by Mark Ronson, the writer of the popular hit "Uptown Funk," who found them among more than 10,000 entrants in a contest connected to the 2016 BRIT Awards. The duo performed their cover of "Uptown Funk" on the BRIT Awards stage and that very night they were signed to Universal Music's Decca Records.

They recorded their debut album at the legendary Abbey Roads studio, with the Royal Philharmonic Orchestra. The sisters arranged all the music with conductors Paul Campbell and Mark Messenger.

Their first album, The Ayoub Sisters, has great tunes on it from start to finish. While it may be hard for them to top such an excellent work, we look forward to hearing what The Ayoub Sisters bring us next.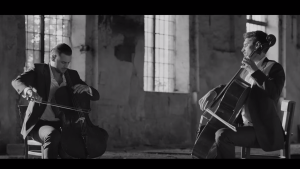 Read more:
2Cellos bring us their somber take on the theme from 'Schindler's List'
Follow Cecilia–Aleteia's music page–on Facebook!