Nineveh Reconstruction Committee has decided to focus on people's housing needs.
Now that ISIS has been defeated in northern Iraq, many Christians who were forced to flee three years ago are hoping to return home and rebuild what was lost. It is a monumental task in the midst of so much destruction left by the Islamic State. One organization hopes to help make it possible through a "Marshall Plan" that they recently revealed, and that the pope is supporting. (The original "Marshall Plan" was a US aid initiative for the rebuilding of Western Europe after the ravages of World War II, named for then Secretary of State George Marshall.)
The Pontifical Foundation Aid to the Church in Need (ACN) has created a Nineveh Reconstruction Committee (NRC) that "has decided to focus on people's housing needs via advocacy, financial and managerial contributions … working directly with leaders from the three main Christian rites [in the area], the Chaldean Catholics, Syriac Catholics and Syriac Orthodox."
The committee recently met in Rome to discuss how they can rebuild the more than 13,000 homes, schools and churches that have been completely or partially destroyed.
The reconstruction cost has been estimated to be $250 million, but that is only the beginning. The NRC explained in their meeting how "for a person to return to his home, he needs not only a roof where he can take shelter but also safe conditions, so that he does not have to flee again." Furthermore, "Christians must not be recognized or tolerated as a minority, but rather as citizens with full rights."
The director of this new Marshall Plan added that a spiritual component is vital for the success of Christians returning to Iraq. "It will be much easier to renovate the houses [that have been] burned, bombed, destroyed, but to renovate the hearts of the people, to reconcile them; this will be a job, and this requires a Marshall Plan of spirituality."
Cardinal Pietro Parolin expressed his and Pope Francis' support for the plan in a recent letter to NRC.
I find this initiative both praiseworthy and greatly needed, and so I support and recommend it, not only to Christians but to all people of goodwill. The Holy Father, who has been following constantly the situation in this part of the world so close to hisheart, has also expressed his deep appreciation and encouragement for this noble but difficult effort.
Around 1,400 families have already returned to the devastated area, but more work needs to be done before Christians can return in larger numbers to an area that has been homes to Christians for centuries.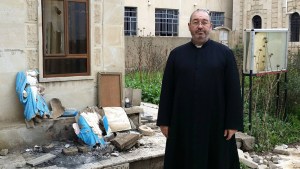 Read more:
Rebuilding Christian Iraq: Now or never, says missionary priest
Read more:
Dominican Sisters in Iraq ask for prayers as liberation of Mosul presents new challenges