Jesus' interlocutors were not asking a sincere question, but his answer aids us who are sincerely discerning today.
What can God do in your life with one Bible verse a day?
Subscribe to Aleteia's new service and bring Scripture into your morning:
Just one verse each day.
Click to bring God's word to your inbox
"Then repay to Caesar what belongs to Caesar and to God what belongs to God."



—Matthew 22:21
The intersection of faith and politics or faith and government has been a complicated and divisive issue for Christians since the time of the Apostles. In a sense, even the stories of the early martyrs are examples of this. After all, because they refused to take part in the cult of the emperor (a common aspect of life in the Roman Empire, where the emperor was honored as a god and as the perfect embodiment of the state), early Christians were actually seen as "atheists" and as enemies of the state.
This tension continued through the ages as Christians tried to live out their faith within the context of their society. We can think of the example of holy kings and queens of ages past (like St. Louis of France, St. Casimir of Poland, St. Henry and his wife, St. Cunegunda, of the Holy Roman Empire, and St. Elizabeth of Hungary, to name but a few) and more contemporary examples like the emperor Blessed Charles of Austria who died in 1922. However, these are exceptional individuals whose lives and stories can seem far removed from the realities of our lives today.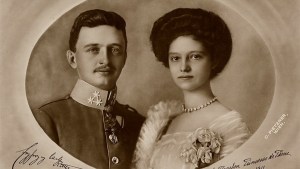 Read more:
5 Saintly marriage tips from Blessed Charles of Austria and his bride, Zita
In this Sunday's Gospel, Jesus himself is being confronted with the question of the relationship of faith and politics, as he is presented with a question that would have been impossible to answer. After all, if Jesus says that we should honor Caesar and pay the census tax, he could be accused of cooperating with the Roman Empire and violating Jewish faith and tradition, which maintains that all is God's and we owe allegiance to God alone (cf. Leviticus 25:23). On the other hand, if he says that the people should refuse to pay their taxes, he's making himself an enemy of the Roman Empire.
As Sr. Barbara Reid, OP, has noted, "In the gospel, Jesus' interlocutors are not asking a sincere question; they are intent on undoing him. Nonetheless, the text can be an aid for contemporary Christians who genuinely seek to discern how they will relate to a government that takes actions or enacts laws that they oppose on moral grounds" (from Abiding Word, Year A).
As I reflected on this text and the questions it raises for us, I was reminded of a quote I heard several months ago: "Religion is always political, but it can never be partisan."
Given our country's history of the separation of church and state—not to mention the current political climate—there might be some who are puzzled or even offended by this statement, but I think it holds true. Our individual commitments and collective beliefs must impact our personal and collective politics. We don't live out our faith in a vacuum. Hopefully, for us as Christians, our participation in the world of politics is both motivated by and an expression of our commitment to the innate dignity of every person as a child of God, as well as our commitment to the common good (see Catechism of the Catholic Church, 1905-1917).
In the end, this Sunday's Gospel invites us to ask ourselves some hard questions about how effectively we are applying the values of our faith tradition to our social obligations, especially in promoting peace and justice for all people. Ultimately, the response that Jesus gave to the scribes and Pharisees is the same invitation he's extending to each of us—give to Caesar what is Caesar's by fulfilling your obligations as a citizen with integrity and as a person formed by faith and give honor to God by allowing our faith to guide us in every moment of our lives. Ultimately, this requires a spirit of discernment, as well as a willingness to set aside our partisan ideas and preferences for the sake of the Gospel and the Reign of God.
How do currently political realities challenge or support your faith?

Is your involvement in politics and the life of the community an expression of your faith? How do the demands of the Gospel influence your social and political values?

How open are you to the voice of the Church—the Holy Father, the US Bishops, and the social teachings of the Church—in fulfilling your responsibilities as a citizen?
Words of Wisdom: "The revolution of love, a love that does not rely ultimately on human resources but is a gift of God which is obtained by trusting solely and unreservedly in his merciful goodness. Here is the newness of the Gospel which silently changes the world! Here is the heroism of the 'lowly' who believe in God's love and spread it, even at the cost of their lives."—Pope Benedict XVI (Angelus, February 18, 2007).