Entertaining and hospitality might look similar, but they couldn't be more different.
Need an idea for Lenten almsgiving?
Help us spread faith on the internet. Would you consider donating just $10, so we can continue creating free, uplifting content?
Make a Lenten donation here
A few years ago, every time I went into a cleaning frenzy, my kids would ask, "Who's coming over?"
They asked that because I only cleaned like that when company was coming. I might pick up some stray socks or wipe down a counter on the odd Tuesday, but when people were coming over I morphed straight into deranged-cleaning mom. Like this:
That was me.
Of course, the direct result of this is that I never invited people over at the last minute, and I certainly didn't open my door and invite a friend into dinner when they came by to say hi. Or in for coffee. Or in at all, really — I walked outside to chat and shut the door behind me, hoping against hope that they didn't notice the piles of laundry and half-naked toddler standing behind a suspicious puddle.
But if you had asked me then if I practiced hospitality, I would've said yes. After all, I made elaborate meals for guests, carefully paired with wine! I polished silver and broke out the tablecloth and offered two kinds of dessert and after-dinner coffee! And I always made sure the entire house, right down to the inside of the shower, was immaculate before guests arrived. What could be more hospitable than that?
Anything, really. That kind of preparation isn't hospitality at all, it's entertaining. And the two might look similar, but as this article at the Gospel Coalition reminded me, hospitality and entertaining couldn't be more different.
Entertaining focuses attention on self. Hospitality involves setting a table that makes everyone feel comfortable. It chooses a menu that allows face time with guests instead of being chained to the stovetop. It picks up the house to make things pleasant, but doesn't feel the need to conceal evidences of everyday life. It sometimes sits down to dinner with flour in its hair. It allows the gathering to be shaped by the quality of the conversation rather than the cuisine. Hospitality shows interest in the thoughts, feelings, pursuits, and preferences of its guests. It is good at asking questions and listening intently to answers. Hospitality focuses attention on others.
I learned the difference by spending more time in other people's homes. I learned that there were people whose homes always look ready to entertain because that's how they keep their homes peaceful. I learned that there are people whose homes looks more like mine, and who pick up before company comes but don't let stray toys and laundry baskets stop them from impromptu coffee dates. And I've learned that hospitality isn't presenting a perfect face so people will think well of you — it's inviting someone into your home because you think well of them.
We do chores on Saturdays now, and pick up in the afternoons. My kids don't ask if company is coming when we clean, because we try keep the house clean for ourselves. Sometimes life gets crazy and the house reflects it, but I try not to apologize for it when people drop by. I invite them in, clear a space at the table, make some coffee, and enjoy the company.
Sometimes I even let them use the bathroom too — and since hospitality goes both ways, no one has ever commented on the cleanliness of the shower. #winning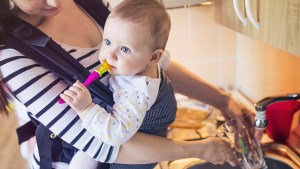 Read more:
Should you sacrifice a clean house to be with your kids?