There are ways to navigate this neurodegenerative disease to make everyone's life more meaningful.
Nearly 44 million people worldwide have Alzheimer's disease or dementia. To date, there is no cure for this disease. The early stages are often undetected, but once a diagnosis is made, life must be reorganized, for both patients and caregivers.
Honoring our parents is a Christian responsibility, articulated in the fifth commandment and reiterated in the New Testament: "Children, obey your parents in the Lord, for this is right. 'Honor your father and mother' — which is the first commandment with a promise — 'so that it may go well with you and that you may enjoy long life on the earth.'" (Ephesians 6:1-3).
Life gives us, among other things, two main tasks: to care for our children and to honor our parents. We accompany our children until they mature, and though there may be struggles, we have the satisfaction of seeing them grow and succeed in their lives. Honoring our elders is often much less gratifying, witnessing the deterioration of their body and spirit, as well as feelings of guilt over home care, treatment, and sometimes, nursing homes or care facilities.
How can we respectfully care for an Alzheimer's patient, without forgetting our own needs? Here, several healthcare professionals address these important questions:
The 4 As of Alzheimer's disease
Alzheimer's is a degenerative disease of the nervous system that progressively deprives a person of their intellectual and physical capacity, and alters their perception of reality and of their own identity. Clinical psychologist Sandy Severino, who specializes in gerontology, explains that Alzheimer's has several phases, and is often referred to as the disease of 4 As: Amnesia (loss of memory), Aphasia (loss of speech), Agnosia (loss of perception and recognition), and Apraxia (loss of the capacity to perform certain movements).
The disease evolves in seven stages: during the three first stages, cognitive difficulties are minor. In stage three, those around the affected person begin to notice their deteriorating capacity. As of stage four, personal autonomy begins to deteriorate; staying organized becomes more difficult, memory of recent events deteriorates, and orientation in time and space is affected. At the beginning of the sixth stage, cognitive difficulties are severe: at this stage, Alzheimer's patients can no longer live independently, need help with personal care, and lose touch with the rhythm of day and night. In the last stage of Alzheimer's, patients can no longer interact with the environment and with other people. Motor skills such as walking and swallowing become increasingly difficult. The decline continues until a patient becomes bedridden and eventually dies.
Retirement home nurse Adeline Devichi has accompanied many Alzheimer's patients and their loved ones through the various stages of the disease. She observes that caring for a parent can be a sensitive task, because the caregiver switches from the role of a child to the role of a parent. Seeing our parents' declining health also reminds us of our own mortality. Since patients are aware of their symptoms at the onset of the illness, they may also experience depression. Alexandra Perrin, specialized Alzheimer's educator, compares the disease to "a golden cage in which a person finds himself: nothing touches him and he is cared for by others. On the outside are the family members, who live around this cage."
Caring for someone with Alzheimer's disease is undoubtedly a difficult task. Here are a few keys to better living this complicated period.
How to care for an Alzheimer's patient
1. Ensure their safety
Because of forgetfulness and clumsiness brought on by the disease, it is necessary to secure the environment of the person affected: doors should be locked, and all dangerous substances and objects stored safely away. Taking these precautions will put you at ease, knowing that your loved one is safe.
2. Respect their beliefs and history
Adeline Devichi insists on this point, explaining that it is important to acknowledge the life story of an individual. It is also important to give Alzheimer's patients reference points for time, to help them orient themselves according to the time of day and stage of their life.
3. Adopt a firm and understanding attitude
As a caregiver, you have to be understanding but also set boundaries. Try not to let yourself be overwhelmed by behavioral troubles, nor be commanded by a demanding Alzheimer's patient. This requires diplomacy and patience.
4. Motivate the patient
Don't hesitate to include your loved one in activities and encourage them to participate. Focusing on what's left and not on what's lost will help a patient maintain a certain level of independence. Adeline Devichi encourages caregivers to treat their loved ones with dignity: look them in the eyes, explain what you are doing and why, don't force them into actions. Encourage them to maintain healthy habits.
5. Pray with and for them
Prayer can be a source of serenity for both patient and caregiver. Spending time in prayer allows us to reflect on our struggles and practice gratitude for the strength to surmount them day to day.
6. Accept misunderstandings
Communication with an Alzheimer's patient will become increasingly difficult. It is important not to insist on clarity and to accept that there will be misunderstandings between you.
7. Help them maintain their image
Remember that an Alzheimer's patient has a story and identity that is worth preserving as much as possible. This is part of treating your loved one with respect and dignity. Recognizing and respecting their limits is also important.
Keys to being an effective caregiver
1. Learn about Alzheimer's disease
Learn as much as you can about the nature, effects, and treatment of Alzheimer's disease. Seek out associations, support groups, doctors, and other healthcare professionals in your area. Don't hesitate to ask the same questions to various people — you may learn something new each time.
As technology improves, new kinds of help are becoming available to Alzheimer's patients, like SafeWander, a useful information tool for caregivers.
2. Preserve your personal life
Remember to make time for yourself. Avoid speaking only of the disease. Make time for your partner, children, and friends by seeking out respite care providers, who look after patients for designated periods of time. Ask your loved one's doctor to suggest some.
3. Know your limits
It is essential to know your own limits, and to express your concerns, sorrows, and possible feelings of guilt; all are legitimate. Knowing your limits will help you to delegate some of the care of your loved one and to share the emotional weight. Geriatric physician François Lefèvre explains that caregivers often experience conflicting feelings: on the one hand, physical and psychological exhaustion, and on the other, a sense of guilt at never doing enough. There's only one solution to this conflict: don't do it alone — share the responsibility of caregiving.
4. Get help
The best way to accompany an Alzheimer's patient, according to Sandy Severino, is to get help. Severino insists on the importance of soliciting all available help and getting to know day programs that can offer respite for caregivers. The best caregiver is one who is accepts help.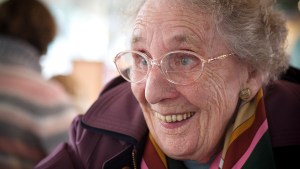 Read more:
When Alzheimer's brings darkness, love lights the way
Read more:
My wife's Alzheimer's reminds me that she is a beloved child of God
This article was originally published in the French edition of Aleteia, and has been translated and/or adapted here for English-speaking readers.