If the presence of evil persists and other natural causes are ruled out, the third step typically involves contacting the designated exorcist. Sometimes your parish priest may immediately refer you to the exorcist, but often even the parish priest does not know who he is. Sometimes only the bishop and those who work with him directly know who that is.
Many dioceses in the United States do not have a trained exorcist and may have to consult other bishops to find an exorcist nearby. Major exorcisms are very rare and the devil's presence is often cast out through minor exorcisms.
In the end, exorcisms are a real part of the Church's ministry, but should be handled with utmost care.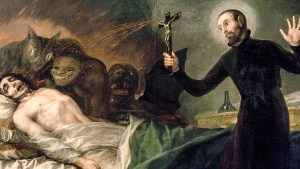 Read more:
Can anyone perform exorcisms?
Read more:
Rome's Chief Exorcist Shares Secrets for Driving Out the Devil