New film 'I'll Push You' tells the moving story of a unique pilgrimage through Spain.
The Camino de Santiago is perhaps the most famous Christian pilgrimage in the world. For more than a thousand years, travelers have made their way across the Camino's 500 or so miles in Northern Spain — hiking over mountain ridges, trekking through deserts, and finally ending at the Cathedral of Santiago de Compostela in Galicia.
Most modern-day pilgrims walk the Camino. Some bike. A few ride horses or donkeys, just like the pilgrims of old did.
But no one has ever completed the Camino in a wheelchair. Not until Justin Skeesuck and Patrick Gray did it in 2014. Their journey, and their friendship, has been chronicled in a book and now a film called I'll Push You — in theaters for just one night, November 2, courtesy of Fathom Events.
Justin and Patrick say they've been friends all their lives, and that's almost literally true. They were born in the same hospital just 36 hours apart. And throughout their childhoods the two were practically inseparable.
But their friendship took a sad turn when Justin was just 16 and was involved in a car accident. Months later, he began to exhibit signs of an ALS-like neurological condition — one that would slowly rob his ability to use his muscles. For years it progressed, sapping one function at a time. Now in his early 40s, he needs help to do almost everything, from eating to dressing to going to the bathroom.
But when Justin learned about the Camino, he knew he wanted to complete it.
"I've always learned to trust my instincts," he said. "I didn't look at the pilgrimage and ask, how am I going to do this or how am I going to do that … I believe God was saying, You need to do this."
In 2012, he mentioned the pilgrimage to Patrick, who didn't hesitate. "I'll push you," he said.
The Camino is challenge enough for the able-bodied pilgrims (who now come from a variety of faiths and do the trip for a variety of reasons). To travel 500 miles with someone confined to a wheelchair and needing help to meet the most basic needs adds a whole new layer of challenge.
"Not only are we walking 15, 17, sometimes 20-plus miles a day, (Patrick) has to get me up in the morning," Justin says. "He has to dress me, he has to feed me … it's a lot of work."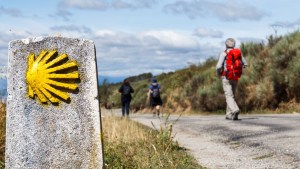 Read more:
How the scallop shell became a symbol of pilgrimage
If that wasn't difficult enough, both had to deal with the complexities of being followed by a film crew throughout — documenting practically every step along what pilgrims call The Way. After seeing some raw footage of the trip, Justin was a little embarrassed by how much of his skin was sometimes on display. "Thousands of people are going to be seeing my butt crack!" he said.
But it wasn't just that. The movie shows some deeply personal, sometimes painful moments from both men. Justin frets sometimes about feeling like a "burden." Patrick juggles myriad duties, all while trying to put on a bold, confident face. Both, in their own ways, reveal moments of weakness.
"Before we went on this journey, this pilgrimage, Patrick and I decided we'd be all in," Justin said. "You get all of us."
Most of us — particularly, I think, if we're American — don't like to show how weak we are, how needy we can be. That's the power of I'll Push You. It shows the beauty that can be found in our weakness. The true intimacy we can find if we're willing to go "all in."
"Justin and I had a lot of conversations [along the Camino] about what makes our friendship tick," Patrick said. "Man, your friendship is not normal. There's a level of vulnerability and intimacy that has to exist for it to flourish."
Both Justin and Patrick are men of faith. And both were impacted deeply by their journey.
Patrick talks about how the pilgrimage forced him to face some of his personal "demons." The walk didn't just force Patrick to look at God through a new lens, he says: "It crushed that lens and threw it away."
"For me, I came home with a greater appreciation of a God of love and mercy. And a God of compassion." And he was determined to live that love, mercy and compassion out more in his own life.
For his part, Justin says that he "wasn't really looking for some spiritual transformation. I had a pretty good grasp of who I was as an individual." But what he did bring back was a newfound appreciation for his fellow human beings. Time and time again, total strangers would come alongside and help him and Patrick, even literally carrying Justin up a mountain.
"My faith in humanity was restored in the course of this pilgrimage," he said.
In the movie, Justin talks frankly about what his neurological disorder has taken from him — and what it's given him.
"As humans we want that independence," he says. "[To] do what we want to do, when we want to do it, and not be told or hand-held through it or anything like that … But … I've learned that once I've let that go, love can flourish."
In a way, that's the lesson that both take home from the Camino: That love can flourish in the midst of our weaknesses. That when we let go of our desire — our need — for independence, we find a special kind of love. Their journey reminds me of Ecclesiastes 4:9: "Two are better than one, because they have a good reward for their toil. For if they fall, one will lift up his fellow. But woe to him who is alone when he falls and has not another to lift him up!"
I'll Push You, a Fathom Event, will be in theaters for one night only, November 2. Check out Fathom's website for a screening near you.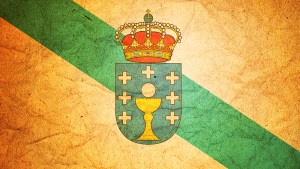 Read more:
The Galician "Holy Grail": A Eucharistic Miracle on the Camino de Santiago
Read more:
You want to walk the Camino de Santiago? Here are 10 things you should know