Public displays of affection are expressions of love and support, so why are quick to condemn them in public spaces?
Need an idea for Lenten almsgiving?
Help us spread faith on the internet. Would you consider donating just $10, so we can continue creating free, uplifting content?
Make a Lenten donation here
I want to tell you a story about a PDA — a public display of affection. During church worship. By a married couple. It involved touching and hugging and a lot of bodily contact. And it was one of the most beautiful things I've seen.
It happened on a Sunday morning. As is the habit of sports fans and churchgoers, our community was standing and singing together. The first hymn was an upbeat celebration of goodness and gratitude. The second was more reflective, and a few rows in front of me, I noticed a pair of shoulders shaking as she sang. Her husband died a little more than a year ago, and her silhouette of sobs refocused my attention to the lyrics I'd been singing rather mindlessly. He is with us always, we sang. We are never alone. He will wipe every tear from our eyes.
To her right, a couple noticed her tears. They, too, had grieved his death. With barely a signal or a nudge needed between them, they gathered on either side of their weeping friend: husband-wife pillars holding up a sister, their arms a latticed embrace around her. They leaned together and sang in braided praise.
It was the image of these three that I carried home after the church service, and which came to mind a few days later when I read (yet another) complaint on social media about the ickiness of couples touching each other in church. "Why all the back-rubbing and hand-holding?" one complained, "Ugh. Must they rub their happily-married status in all the single people's faces?" "Can't they just get a room?" wrote another, "It's hard enough navigating life without a partner without having to deal with all that touching in church. They should keep their hands to themselves."
Yes, I agree that excessive public petting is off-putting, but I disagree that the answer is a strict hands-off policy. The response to a world where there is a distracting amount of sexualized touch should not be to rally for less touch, but surely to demonstrate healthy and appropriate touch as the couple in our church had done. From the cradle to the grave, we are creatures who need physical contact. Babies who are not held fail to thrive, and research confirms that we do not outgrow this basic need for human touch as we age. Physical contact promotes problem-solving and team bonding, and in times of stress a warm touch speaks as words cannot: "I will share your load." As Johann Hari concludes in his powerful essay on the causes and combating of addiction, "The opposite of addiction is not sobriety. It is human connection."
We need to make space for healthy public displays of affection, whether between couples, friends, teammates or friends. The "get a room" rebuff betrays a belief that touch always has a sexual undercurrent, but in truth not all physical contact is icky, and not all back rubs lead to sex. We all need safe, non-sexual physical touch and affection — and this should happen in public spaces (and even worshipful ones), too. "Greet one another with a holy kiss," wrote the Apostle Paul to early churches. Perhaps a holy hug, or a holy fist-bump, or a holy high-five might do the trick in our current cultural parlance, but the gist is the same: make it a habit to demonstrate love by touch.
The couple in church powerfully modeled the healing and holistic power of physical touch. But they did something more than that: they demonstrated something about married touch, too. For the healthiest of marriages are not ones where a man and a woman turn inwards to each other with their backs on the world: inwardly-focused marriages too often collapse under such a centripetal emotional load. In contrast to the inward focus of modern relational lore, flourishing marriages call us to turn outwards together with our spouse and serve the world as a team. Marriage is not just you-for-me and me-for-you, but us-for-others, and even the most intimate of marital touches ultimately serve this purpose: sex knits a couple together in private but the long-term fruit of marital touch is children — a very public gift too, and indeed the bedrock of, community.
People are more than thinking beings and more than emotional beings. We need more than thoughts and prayers when we are hurting, we need more than kind words when we feel alone. We are embodied souls and we need bodily contact. Whether married or single, we need to give and receive healthy displays of affection. Let's embrace those.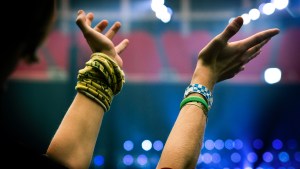 Read more:
Help! A Catholic convert misses all the "feelings" from her old Protestant church
Read more:
The Lord's Prayer During Mass: Should We Hold Hands? Or Raise Them in the Air?