But you might want to wait until they're old enough to read the rules for fighting fair.
What can God do in your life with one Bible verse a day?
Subscribe to Aleteia's new service and bring Scripture into your morning:
Just one verse each day.
Click to bring God's word to your inbox
If I had a dollar for every time I say "Children, please will you just stop fighting!" I could probably pay off my student loans. But seriously, my kids fight all.the.time.
Most of the time they're not even fighting over something real; they're fighting over some imaginary slight or perceived aggression. "She's looking at me" is a common impetus for argument, as is "It was my turn to talk and he started talking!" If I had time and space to analyze their arguments I'm sure I would discover that they are, in fact, fighting over something real, like their developing notions of justice or blossoming autonomy or something. But I don't have time and space. I have five kids. So I beg them to stop fighting instead, because I can't handle it.
Luckily (or unluckily?) for me, apparently tension and argument are essential skills for fostering creativity. Yes, really. Behold Adam Grant from the New York Times and his article, the title of which alone strikes fear into the hearts of mothers everywhere: "Kids, Would You Please Start Fighting?"
Witnessing arguments — and participating in them — helps us grow a thicker skin. We develop the will to fight uphill battles and the skill to win those battles, and the resilience to lose a battle today without losing our resolve tomorrow …

If no one ever argues, you're not likely to give up on old ways of doing things, let alone try new ones. Disagreement is the antidote to groupthink. We're at our most imaginative when we're out of sync. There's no better time than childhood to learn how to dish it out — and to take it.
Oh man. Look, I get it. I get that the Wright brothers designed their breakthrough dual-propeller after weeks of shouting matches, but I guarantee you that their mother was not in the same room during those shouting matches, trying to pay bills or make a phone call. I promise. Because if she was, that plane would never have been designed and we'd all be taking bullet trains instead of red-eyes.
I get that creativity flourishes in the midst of conflict, resilience is learned through conflicts and conflict resolution, and that groupthink is super bad. And on the one hand, I love the idea of teaching my children to have healthy disagreements. I even love the rules he lays out for those disagreements: frame things as a debate, argue like you're right but listen like you're wrong, make the most respectful interpretation, acknowledge where you disagree with each other and what you've learned from each other.
On the other hand, imagining the practical application of these rules is giving me heartburn. "Lincoln, your position is that your brother called you a meanie poop-head when you were a baby, and you remember it even if he doesn't? And Liam, your position is that you didn't call him that when he was a baby, you called him that just this very second while my back was turned? How can we resolve this conflict?"
I'm going to assume, despite the picture atop the article, that the target child audience is somewhat older than 5 for the sake of my sanity (and yours). But for older kids this sounds great. With one child on the cusp of the teen years and already proficient in the art of eye-rolling, I think posting these rules in our kitchen is a great way to mediate arguments before they get out of hand. It's an external standard that we can hold each other to in the heat of the moment, and maybe prevent arguments from descending into accusations and anger (and eye-rolling).
And if my kids turn out super creative and resilient, that'll be a bonus. (But I'm still not going to encourage arguments about who's the meanest poop-face. We all have our limits.)
Read more:
5 Ways to Bring Peace to Your Home — Even With Kids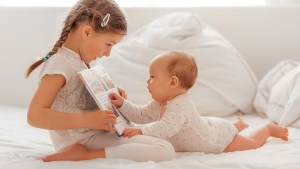 Read more:
New study claims eldest siblings have better thinking skills