Fr. Edward Looney explains why he brings holy water with him into every hotel room, and shares the prayers he prays.
Every now and again, I have the opportunity to travel and speak at conferences, sharing about Mary's importance in the spiritual life. When I do so, I usually have to spend the night in a hotel room. One of the essentials I pack (or because I'm a priest, can make) is a small bottle of holy water.
Why? Three words: Evil is real. The presence of evil can remain in a room long after whatever might have taken place within it. You don't know who was the previous occupant of your hotel room and what kind of baggage they brought with them. You don't know what has occurred in your room. Holy water is a powerful tool in protecting against evil and can help dispel any remnant of evil.
The next time you travel, might I suggest packing a small bottle of holy water? When you arrive at your room, sprinkle the room with holy water. If you don't have holy water, your local Catholic parish should have a holy water dispenser.
After sprinkling the room, say a prayer, asking God to send his protection upon your room and asking also to forgive whatever evil that may have taken place. Pray for the conversion of those who have been previous guests, and pray for those who will come after you.
Here's a prayer that I wrote for such an occasion:
Almighty God, I ask you to send your angels to be with me in this place, and protect me from all assaults of the Evil One. Please forgive any wrong that has been perpetuated in this room, and grant those who offend you the grace of conversion. Dispel the powers of darkness which may be in this room and protect me this night, and those who will sleep here in the forthcoming nights. Jesus I trust in You!. 
It's not a bad idea to pray, also, for the hotel workers moving from one room to another, exposed to supernatural who-knows-what.
Another beautiful and powerful prayer you could say comes from Night Prayer of the Liturgy of the Hours on special solemnities. It is a prayer I often pray in these situations:
Lord, we [or I] beg you to visit this house [room] and banish from it all the deadly power of the enemy. May your holy angels dwell here to keep us in peace, and may your blessings be upon us always.  We ask this through Christ our Lord. Amen. 
Additionally, you may wish to invoke the intercession of St. Michael the Archangel or your guardian angel. With prayer and holy water, you will be protected from the remnants of evil and prepared should a spiritual battle arise.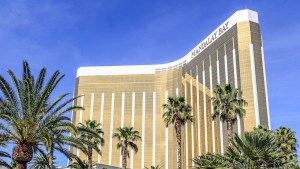 Read more:
Catholic priest blesses Las Vegas shooter's room, feels evil presence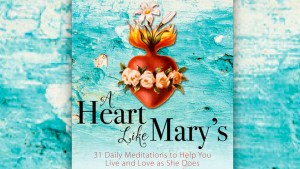 Read more:
31 Days to acquiring 'A Heart Like Mary's'
Read more:
Going to Mary to Save the World