It's exactly the time of year when we can turn to God's Word, especially the Psalms for relief and restoration.
Need an idea for Lenten almsgiving?
Help us spread faith on the internet. Would you consider donating just $10, so we can continue creating free, uplifting content?
Make a Lenten donation here
Thanksgiving is time of joyful reunion with our families, but it can also be a time of loneliness and stress as some of us travel, and others of us find ourselves spending the holiday alone. Which means it's exactly the time when we can turn to God's Word, especially the Psalms, for relief and restoration.
My favorite psalm is also one we all know best. The 23rd Psalm starts as a conversation about God, and becomes a conversation with God. When the inevitable joy and doubts of the holiday season creep in, a reminder of God's presence in our lives is exactly what we need.
A psalm of David.
1 The Lord is my shepherd, I lack nothing.
God is the Shepherd that runs into the snowy night to find us. No matter how lost we become, He rushes to us with open arms, so precious are we to Him.
We lack nothing because He offers the most important thing: limitless Love. A love that heals us, repairs our relationships, and remembers our name.
2 He makes me lie down in green pastures,
he leads me beside quiet waters,
God understands that in the beginning, our faith is fragile. So He provides opportunities for us to rest as we grow, to walk a gentle path beside quiet waters. He never pushes us, we proceed at our own pace.
3 he refreshes my soul.
He guides me along the right paths
    for his name's sake.
When we are weary, God meets us in prayer and the peace of the Holy Spirit refreshes us. Then, as we seek His guidance He opens the way before us.
4 Even though I walk
    through the darkest valley,
I will fear no evil,
    for you are with me;
your rod and your staff,
    they comfort me.
Unexpectedly, the worst happens. A loved one is lost, we face a devastating illness, a much needed job is gone, a dream we worked for crumbles to ashes. In our journey, we experience one or all of these soul-shattering moments. We feel as if we have been abandoned.
At this moment of greatest despair, we finally see God as 'You.' As darkness encroaches, we discover You are near. You offer protection and the steadfast assurance that You are with us always, we no longer have to face our trial alone, You comforts us.
5 You prepare a table before me
    in the presence of my enemies.
You anoint my head with oil;
    my cup overflows.
Thanksgiving! We have much to be grateful for. We have traveled through the valley of the shadow of death, and now You have prepared a feast for us. We experience joy and reward and delight and relief. You anoint us with oil, a blessing, and a balm to heal our wounds. Even if we are surrounded by people who might wish to harm us, You are with us.
6 Surely your goodness and love will follow me
    all the days of my life,
and I will dwell in the house of the Lord
    forever.
Finally, we accept Your presence in our daily walk and acknowledge You are our refuge, our Home. The house of our Lord is a place of friendship with You, a bond between Father and child, a deep intimacy that comes because we have walked together through the darkest valley and experienced Your unwavering love.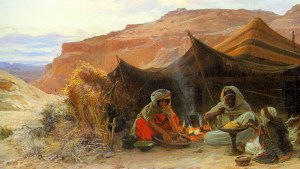 Read more:
How a summer with the Bedouins taught me what's in my name
Our trust in You is full now, and through trust, we understand Your love for us. We can dwell in Your house forever. We know that no matter what we face from here, You will be with us.  
The psalms are a unique way to pray. They are the Word of God, directed to God. So when we pray them, we are as little children, being taught by our Father to pray, the way that a mom or dad teaches a child to pray line by line. Turning to the psalms we discover a deeper relationship with God. I have discovered that if I focus on one psalm each week, and read it aloud each day, putting my name into the psalm as I read, I understand how God is speaking to me. Just as he is speaking to me now, for Thanksgiving.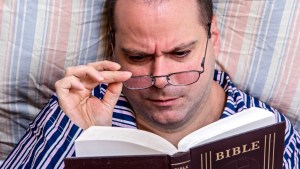 Read more:
The one thing you most need after a day (or week) that just wouldn't end