Famous sports brands are already using this new fabric.
Need an idea for Lenten almsgiving?
Help us spread faith on the internet. Would you consider donating just $10, so we can continue creating free, uplifting content?
Make a Lenten donation here
Coffee is an old friend of humanity. Since the 13th century, the Ethiopians shared the benefits of drinking it, and the Egyptians and Yemenis also cultivated it. Coffee was "black gold," a plant that gave rise to one of the most globally beloved drinks. The practice of roasting coffee beans began in Arabia, and our understanding of coffee cultivation and preparation has grown, since then, to sophisticated levels.
Just when we thought we already knew everything about coffee, engineering took up a very peculiar task: to make coffee indispensable for fabrics. The best part about this is that using coffee for the textile sector is not incompatible with enjoying it for taste. In the first phase of transforming coffee into fabric, there is also a roasting process.
Once toasted, the coffee is processed with a polymer (a natural or artificial macromolecule), and the result is a multifunctional thread that can be used in manufacturing, and is currently already used in athletic clothes and home goods.
Coffee grounds
Some time ago, Starbucks promoted a campaign to tell its customers that its coffee grounds would be recycled. They also reported the benefits to the company, since Starbucks has become a worldwide provider of Singex, a Taiwanese company that has the S. Cafe patent.
And what is S. Cafe? Nothing less than a patented product composed of a polymer and coffee, and that is considered one of the yarns of the future.
Coffee united to the polymer has characteristics that no other natural or artificial fiber has been able to provide so far.
It controls odors. The coffee grain dust is inserted into the fabric in such a way that there is no need to worry about the deodorizing effect getting worn out or stripped away in the washing machine. The long-lasting deodorizing effect can be especially useful in athletic clothes, but also in fabrics that have to be used in closed spaces or in contact with materials that give off unpleasant odors. The fabric can also mitigate the effects of sweating in hands or feet (think of your socks or gloves). It stops sweat odors three times faster than cotton.
It dries quickly. The new fabric containing coffee dries faster than natural fabrics, which helps keep the body dry and can prevent skin irritations or infections. It dries 1.88 times faster than cotton.
It stops UV rays. The tiny coffee particles in the fabric offer protection against UV rays, which makes S. Cafe particularly useful in sports clothes, whether in the snow or on water (especially at sea). It protects from the sun 5.66 times more than cotton.
It lowers body temperature. The coffee fabric reduces body temperature by 1 to 2 degrees Celsius (a range of up to 3.6 degrees Fahrenheit). It lowers temperatures 1.6 times more than cotton.
Some athletic-wear brands have already begun using S. Cafe since it began to sell its fabric in 2009, including North Face, Timberland, and Puma, as well as American Eagle.
Now coffee lovers have yet another reason to love their cup of joe!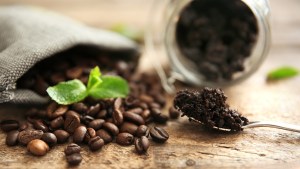 Read more:
Natural skincare: 5 Cosmetic uses for coffee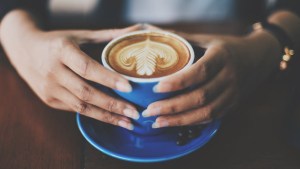 Read more:
Want to live longer? Drink more coffee
This article was originally published in the Spanish edition of Aleteia and has been translated and/or adapted here for English speaking readers.