Once outlawed for being a choking hazard, a new FDA-approved sweet is now available for Christmas stockings everywhere.
Every year, billions of Kinder eggs are sold in 170 countries around the world, but the U.S. is not one of them. The chocolate eggs have long been banned by the Federal Drug Administration (FDA), but this holiday season the exile is coming to an end!
The ban by the FDA was due to the inclusion of a plastic toy hidden inside the egg itself, which violates the FDA's rules regarding the dangers of non-edible items hidden inside food. The new version, Kinder Joy, will still contain that plastic toy but it will not be hidden within the chocolate, lowering the risk for young children.
Paul Chibe, CEO of Ferror North America, said that kids and parents can expect an ever-growing variety of toys "focused on play, learning, and skill development, so there are too many to mention them all!"
Kinder Joys made their American debut on Black Friday, with Walmart getting the exclusive on them for one month before other stores get in on the chocolatey goodness.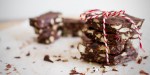 Read more:
How to make sure you're buying the healthiest kind of chocolate