The scientist's knowledge of physics and cosmology has provided him with a surprising insight ...
Despite the criticism he's received for his support of physician-assisted suicide as well as his views on religion, Stephen Hawking has some surprisingly optimistic advice for those who struggle with depression.
After being diagnosed with motor neuron disease (ALS) at the age of 21, Hawking was expected to live for only two more years, but his daughter Lucy testifies, "He has a very enviable wish to keep going and the ability to summon all his reserves, all his energy, all his mental focus and press them all into that goal of keeping going."
In a lecture for the BBC, Hawking briefly compared depression to black holes, which were once mistakenly thought of as "prisons" from which nothing could escape. Now, science knows this to be false.
Hawking said, "The message of this lecture is that black holes ain't as black as they are painted. They are not the eternal prisons they were once thought. Things can get out of a black hole both on the outside and possibly to another universe. So if you feel you are in a black hole, don't give up — there's a way out."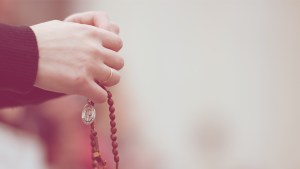 Read more:
The rosary is a weapon against depression and hopelessness.