Studies show there is something that can add years to her life.
You really need to pay your mom a visit. No, it doesn't count that you just saw her over Christmas … schedule another get-together very soon. Her life could depend on it! Perhaps that sounds a little dramatic, but it's not when you consider that studies have shown that the one thing we can do to improve our loved one's longevity is spending time with her. Yes, the more you visit your mom, the longer she'll live.
Everyone loves to talk about loneliness and depression around the holidays — and it's true that nostalgia makes November and December typically difficult months, especially for older people who've lost spouses and friends, and may be isolated from family. And it's especially true for lower-income people, without the connections, means, or good health to socialize regularly.
But loneliness is a 365-days-a-year business. It also strikes in the post-holiday months when it's too cold or dangerous weather-wise for your mom to venture outside, and even in the long, dog days of summer. Yes, many people get bouts of loneliness in the summer months, too.
A lot of research has been done on loneliness over the years. People of every age report loneliness at different stages of their life, which is natural. How we define loneliness changes with each stage. According to research, loneliness tends to peak around 30, then slowly diminishes again until about 65 to 80 years of age. 
But the type of loneliness our parents — mom or dad — feel at 75 is a lot different from that of the 35-year-old man who says he is lonely because he's in the throes of new fatherhood, with little time to get together for ball with the guys. Not to dismiss that type of loneliness at all, but it's temporary and he has the contact of his family.
At our parents' age, isolation and the effects of poor social interaction and support have been directly linked to adverse health effects on many levels, including heart disease, depression, and mental deterioration (dementia and Alzheimer's) — all of which can lead to a shorter life. But spending time with the most important woman in our lives is like a protective shield against diseases. Just how powerful is it? Simplemost summed it up pretty well, citing the results of a 2012 study published in JAMA:
Specifically, the study looked at 1,600 adults with an average age of 71. Researchers found that 23 percent of participants who reported being lonely died within six years of the study, while only 14 percent of those who reported having companionship died during the same six year period.
So, consider spending time with your mom a priority, just as important as picking up her pills at the drugstore and scheduling her doctor visits. If regular visits are difficult because of distance, encourage her to get involved in her community through the senior center, garden club or local library to keep that social network going. And of course — there's always Facetime or Skype if they own a smartphone. No, it will never be a substitute for the real thing but it's something, and at the very least it gives you a good idea for the next birthday or Christmas gift.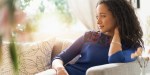 Read more:
11 Ways to beat back loneliness