Joy Villa's most recent red carpet statement calls for the protection of life.
It isn't the first time singer Joy Villa has made a statement on the red carpet. Her eye-catching gowns have garnered commentary and backlash in recent years, and this year she has taken what is arguably her boldest statement of all.
In case the handbag with the lettering "Choose Life" was too subtle, her white gown featured a painted foetus surrounded by rainbow colors.
VIDEO: Once again, @joy_villa makes a political red carpet fashion statement at the Grammy Awards. This year, the singer's message is "choose life." For full #Grammys coverage, visit: https://t.co/5wUUqkIz9Vpic.twitter.com/HbVIsZIbSx

— AP Entertainment (@APEntertainment) January 28, 2018
"I'm a pro-life woman," she told Fox News. "This year I chose to make a statement on the red carpet like I always do. I'm all about life." Revealing her own story of placing a child for adoption when was 21, she said that she always favors adoption as an alternative to abortion.
Her bold message has made her outfit easily the most talked about of the night, with more conversation surely still to follow. Her opinion, definitely unusual for Hollywood, has made for a courageous statement which is not likely to fall silent any time soon.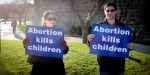 Read more:
The pro-life position is essentially a secular position