The first of his kind, Riley helps to ensure masterpieces will be around for a long time.
Dogs can be trained to perform some pretty amazing tasks. From service dogs for the disabled to search and rescue dogs, these clever canines make a huge difference to the way our society functions. But have you ever considered training a dog to protect art?
Riley, a 12-week-old Weimaraner, isn't just any guard dog. His owner Nicki Luongo, who had previous experience training police dogs, has trained Riley to protect artwork at the museum where she works. But Riley isn't protecting the art from people. Riley is trained to sniff out insects that can severely damage the art in order to help preserve it for longer.
Katie Getchell, the deputy director of the Museum of Fine Arts in Boston, called it "a trial, pilot project." To the best of their knowledge, no dog has ever been trained for such a job, and so they don't know whether it will work practically. "But it seems like a great idea to try," she said.
Dogs are typically trained to detect a certain scent by being offered food. Once the dog associates the scent with food, it will naturally seek out the scent. The challenge is training the dog to alert someone to the scent. In Riley's case, his owner is training him to sit down in front of a painting if he smells moths or other insects.
Though he is scheduled to complete his work during closed hours, the public attention he's gathered means Riley already has fans eager to meet him. Thankfully, the deputy director says that one is still on the table!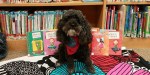 Read more:
These dogs are helping kids learn to read — and it's adorable (PHOTOS)