It's not social media or watching more TV...
Twitter thread: https://twitter.com/AlastairMcA30/status/958992790028988416
Alastair McAlpine from Cape Town, South Africa, decided he'd had enough of seeing all the misery popping up on social media. So the palliative pediatrician decided to set his young patients, aged between four and nine, a task by asking them to share "what they had enjoyed in life, and what gave it meaning, tweeting: "Kids can be so wise, y'know. Here are some of the responses."
Firstly McAlpine started his series of tweets with what children didn't mention:
"First: NONE said they wished they'd watched more TV NONE said they should've spent more time on Face Book NONE said they enjoyed fighting with others NONE enjoyed hospital"
The doctor then got down to tweeting what his patients valued the most. While pets were a firm favorite, many of the dying children selflessly demonstrated concern for those they were leaving behind: "'Hope mum will be ok. She seems sad.' 'Dad mustn't worry. He'll see me again soon.' 'God will take care of my mum and dad when I'm gone.'"
While all the children shared their love of books — preferably read to them by their parents, with Harry Potter getting a special mention for making a patient "feel brave." All the children said they loved ice cream. As you'll notice, it really is the simple things in life.
Interestingly, the children also talked of the time wasted on trivial concerns, which the majority of adults can easily relate to: "MANY wished they had spent less time worrying about what others thought of them, and valued people who just treated them 'normally'. 'My real friends didn't care when my hair fell out.' 'Jane came to visit after the surgery and didn't even notice the scar!'" These young vulnerable children have learned the value of real friendship that a lot of us don't appreciate until much later in life.
The usual children's favorites also made the list: people that made them laugh, swimming in the sea, toys, and superheroes. Yet in the final chapter of their lives, most of the children valued kindness with responses such as: "My granny is so kind to me. She always makes me smile… "
McAlpine finally shared the one area that the children were all unanimous about in their lives: "They ALL valued time with their family. Nothing was more important. 'Mum and dad are the best!' 'My sister always hugs me tight' 'No one loves me like mummy loves me!"
The message is loud and clear, as McAlpine simply put: "Take home message: Be kind. Read more books. Spend time with your family. Crack jokes. Go to the beach. Hug your dog. Tell that special person you love them. These are the things these kids wished they could've done more. The rest is details. Oh… and eat ice-cream." — cue thousands of replies.
Many Twitter users praised the doctor for his dedication, recognizing how difficult his job must be. Very humbly the doctor recognized: "The palliative field chose me, not the other way round," while also saying how it was a privilege to work with these small patients and their families. Yet as one person posted: "You and people like you are God's love in action."
Remarkably, the inspirational doctor also took the time to reply to many of those who'd left a comment, as he told the BBC: " I believe in thanking people when they say something nice, but there were just too many for me to reply to all of them."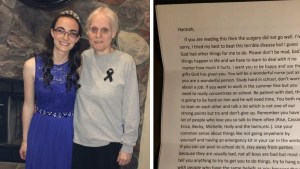 Read more:
Dying mother's moving last letter to her daughter