Inspired by St. Therese of Lisieux, Blessed Cecilia Eusepi reached spiritual heights at a young age.
While many saints over the past century have been inspired by St. Therese of Lisieux and her "little way," one young Italian girl became an expert at it.
Her name was Cecilia Eusepi and she was born on February 17, 1910, in the village of Monte Romano, Italy. She had a loving family, being raised by her mother and maternal uncle who took them in after her father died.
Eusepi was sent to a Cistercian school at age 6 and it was there that an initial desire for the religious life was formed. Near the school was a parish church run by a religious order called the Servants of Mary. She would often spend time there and grew fond of the missionary priests.
At age 12 she asked permission to be a secular member (called a tertiary) of the Servants of Mary. A year later she was able to obtain a dispensation from the local bishop to become a postulant. Eusepi studied in Rome, Pistoia, and Zara. However, she never became a missionary as she died at the age of 18 due to brief fight with tuberculosis.
In the eyes of the world she did nothing extraordinary, but she did leave a beautiful autobiography that details a saintly inner life that has been compared to St. Therese of Lisieux.
This is not without merit as Eusepi tried to fashion her life after the Little Flower. Eusepi writes, "I will reach Jesus by a little pathway, a short, very short one, that has been paved for me by little Theresa." She shared Therese's missionary spirit as well, writing, "Even as a child, I was concerned about the toil of missionaries. The good fathers told of distant lands, of conversions and baptisms. The greatest aspirations filled my heart and I too hoped to go far where no one would know me so that I could make Jesus known and loved as I loved him."
Much of her inspiration came directly from reading St. Therese's autobiography Story of a Soul, "The nuns told us of the lives of the saints. One day, I happened to read the story of Theresa of Lisieux. I read it all in one go and it moved me to tears … I felt in my heart that this was the road I ought to travel."
Eusepi's confessor asked her to write a diary of her life, which she humorously titled Story of a Clown. Laughing to her confessor she said, "Father, forgive me for being so untidy … sorry about the title … but I could think of nothing better for the story of my life."
Her spirituality can be summed up in these words from her autobiography, "The sum of it all is recognizing one's nothingness … it pleases Jesus, Who likes to joke with His creatures, to steep in grace the least probable … the ones who seem to Him to be the most wretched, in order to make His mercy shine forth all the more, and he takes pleasure in their confusion and wonder."
Fittingly, she died on October 1, 1928, a day that was revealed to her by St. Therese herself in a vision to Eusepi.
Since her death her life has been an inspiration to many, and she was beatified on June 17, 2012.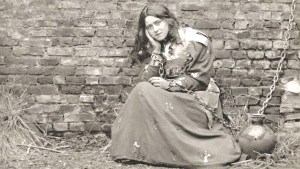 Read more:
Therese of Lisieux: Is the Little Flower the most dangerous of saints?