As time goes by, our habits actually reinforce and strengthen us as a couple.
How many of us gripe at the thought of having to fold all that laundry, spend time taking kids to their various sporting commitments, or watch through gritted teeth as our spouse loads the dishwasher in a logic-defying manner (guilty!)? Understandably, for many couples this routine is synonymous with boredom, but it turns out that these repetitive habits are actually positive in our daily lives.
Creating familiarity and reassurance, little rituals allow spouses to build their own little sanctuary in the chaos of today's society. As routine sets in, this can create a real challenge for the couple: we lose that initial excitement of when we first met, and sometimes it's tricky not to be at each other's throats (or secretly reload that badly stacked dishwasher) when we become entrenched in the mundane. Yet, as time goes by, our habits actually reinforce and strengthen us as a couple.
If we wish to stay faithful to the commitment of marriage, when we promised to make each other happy, then perhaps — surprisingly — routine has an important role to play. All we need to do is sprinkle our everyday lives with pleasurable rituals for two. So let's follow the advice of Maylis Duffaut, a family and marriage counselor, and Karine Danan, a psychotherapist for adults and couples, and leave some room for routine, and appreciate its real value.
Treat routine as a point of reference
Looking at routine in a positive light creates reassurance for each member of the couple. That might involve having coffee together in the morning, calling each other or sending a message during a lunch break, or sharing our day with each other come the evening. "Routine can seem negative, but living each day together has a very good and gentle quality about it," asserts Duffaut. "Rediscovering odors, certain gestures, or sensations with a familiar taste, is comforting."
These habits allow a couple to establish certain points of reference. "Routine brings with it rituals," confirms Danan, who shares an example of a couple coming to consult her: "Every day, on coming home from work, they get together to share an aperitif. It's an opportunity to catch up on each others' day, and to relax together, as a sort of transition between work and family life. 'Our daily catch-up is drawing nearer', they say. 'We're both very busy and active, so this ritual invites us to unwind with enthusiasm. Sometimes we miss our date but it's pretty rare. Two or three days without our tête-à-tête, and we feel a little lost.'"
Like a fragile balancing act, routine and its little ways can also wear a couple down. "Routine can tire a couple," warns Duffaut. "There's no longer the novelty, or that 'little flame.' Although routine includes rituals, it must not be opposed to the notion of passion and the need to surprise the other, to surprise them every day."
Be yourself, thanks to routine

"Routine allows us to do things without thinking, or rather, to do things while thinking of something else," reveals Karine Danan. It circumvents questions, big speeches, time-wasting. "In everyday life, routine is synonymous with comfort, also in the sense that it requires little effort," Duffaut adds. "In our professional and personal life," she continues, "there is always a need for adaptation to what is new, to an outside universe, or an unknown environment … There's a certain comfort to returning home and letting go, without having to prove ourselves. When faced with the kindness of our spouse, we can reveal our true self; this allows us to be ourselves in an authentic relationship."
While we're in this phase of "mental rest," we also have the opportunity to optimize our time, making ourselves useful. "When our brain has acquired a series of gestures, or a new skill, it can think of something else," confides Danan. "Routine brings with it a means of freeing up our mind, allowing us to devote ourselves to dealing with other, new situations." Within a marriage, our daily habits are numerous, so we can put our mind on "auto-pilot," leaving room for a husband and wife to think about new horizons or different projects together.
Routine is a challenge for the couple to love each other more
Instead of waiting impatiently for the opportunity to head off on a vacation together, or being consumed by a need to be constantly organizing local outings, what if happiness is found in our daily routine? "Love is more profound when it's rooted in rituals," says Duffaut. "When our hearts no longer skip a beat when we see each other, it's a real challenge to reignite those flames. If we have the will to revive that desire, anything is possible. It's so much more interesting when it is a little difficult. We gain in perspective and depth."
In order to see routine as a positive element in a relationship, it is also necessary to look at it with fresh eyes. "To keep routine from being synonymous with boredom, find ways to make your dull tasks entertaining," recommends Danan. If we see our numerous daily chores as irksome or restrictive, then that's what they'll end up being. We need to ask ourselves what these activities contribute to our lives, and if this routine serves no purpose, then we should ask ourselves why we're still doing it, and what could we change to use our time better. Asking ourselves questions is a way of analyzing our relationship, of questioning our daily routine so we can grow and progress.
"What can we do to make tomorrow as full of life as today?" asks Duffaut. "It's our everyday life that must be extraordinary!" This challenge is a result of the indissolubility of marriage. "Whatever happens, we stay together. But at what cost?" questions the marriage counselor. "A Christian marriage involves fidelity between the spouses, and respect for the commitment made before God to make our spouse happy for the rest of our lives. The first thing required to keep this promise is to bring happiness to our everyday lives. Kindness must be reciprocated, progress must be made together. It's a joint effort."
Establish pleasurable routines
In our hectic lives, spouses need to make time for each other as a couple. "Within the relationship, it is important to define at what moment we can establish a shared ritual or even have a date," stresses Duffaut. "Take the time to be entirely available for each other, to be able to listen to each other without any distractions, even if it's just 10 or 15 minutes. It's essential for a healthy equilibrium." These days family life takes up a lot of mental and physical space, and our children are our main focus. We need to clear some time for our spouse, without doing the dishes or feeding the toddler at the same time. Just a little time for each other.
"This can be a moment of tenderness, for example, hugging at least three times a day. At the beginning, this may seem a little forced and not very natural," continues Duffaut, "but very soon it will become familiar. It is both strange and magical at the same time, and little by little this 'must-do' will become a moment that the couple looks forward to—a pleasurable habit."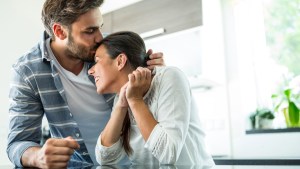 Read more:
22 Ways married couples keep the "chemistry" in their relationship
This article was originally published in the French edition of Aleteia, and has been translated and adapted here for English-speaking readers.