How can parents help their daughters develop a healthy body image?
Dear Katrina,
My 8-year-old daughter has started complaining about her weight and saying negative things about her body. She recently asked me if she could go on a diet. I'm concerned about her self-esteem at such a young age. I asked her if anyone at school or somewhere else had said anything mean to her about her weight or if she was being bullied about her looks and she says no. I remember not being concerned about my weight or appearance until I was high school. Eight years old just seems awfully young to start worrying about appearance, don't you think?  I tell her she's beautiful all the time and she just shrugs it off. What can I do to help my daughter feel better about herself? It's heartbreaking to see her so depressed and refusing to eat. I'm worried sick about her and don't want her to develop eating disorders.
Signed,
Anonymous
————————————————-
Dear Anonymous,
It might be helpful to know that puberty typically starts around age 10-14 in girls, so your daughter isn't too young to start experiencing prepubescent hormonal changes that affect mood. It's also during this time that children start becoming more self-aware. Your daughter is probably in second or third grade and in school with girls as old as 10 or 11. There can be a large developmental difference between 8 and 11 and she's probably becoming aware of the development of her peers and making the comparison between their bodies and hers. These comparisons can contribute to feelings of inferiority and her early preoccupation with her body and appearance.
I know it's heartbreaking to see our children suffer and feel helpless to do anything, but I am here to reassure you that you needn't feel this way. There are plenty of things you can do to comfort and encourage your daughter.     
Get a physical
Pre-pubescence and puberty can be hard on children because there's so much physiologically going on in their young bodies they can't mentally work out and articulate how they feel. My first recommendation would be to schedule a health evaluation with her physician. Her doctor can give her a thorough physical and determine if she'd benefit from having a counselor to help her deal with her feelings. During this time you can also find out if your daughter is in a healthy weight range. If she is, this medical affirmation that her weight is fine could help ease some of her concerns. If she isn't, then her doctor can also can help her see that dieting at such a young age could be harmful for her development and rob her of the vitamins and nutrients a growing young lady needs. Refusing to eat is definitely dangerous and unhealthy and that's something her doctor can reinforce during a check up. The important thing about getting a physical done is to rule any serious physical or mental issues with the guidance of professionals.     
Be the example
I grew up around female family members who often put themselves down. I had one grandmother who was always trying to feed me and another who told me everything I ate would make me fat. Some of the negative comments were made in jest, some were fishing for compliments, and other times it was just a way that my female family members commiserated and bonded with each other. It seemed no one was ever satisfied with how they looked. These women had the biggest influence on my attitudes about weight, beauty standards, and self image. The University of Florida published their research confirming this, that mothers have the biggest influence in their daughter's relationship with body image.
I don't mention this to direct blame at you, but to encourage you. You're not helpless in this situation at all. In fact, you have the greatest influence to help your daughter. This influential mother-daughter relationship gives you a special advantage in being your daughter's role model and main example.  
So what does that example look like? Being kinder to yourself, more forgiving of your own mistakes, and less focused on your flaws. Age gracefully and don't disparage your own appearance. A good of rule is to treat yourself as you want your daughter to be treated. If it's something negative or hurtful that you'd never say to your daughter then don't say it to yourself. Build up her self esteem with earned compliments for things other than her appearance — for being kind to others, doing chores unprompted, being thoughtful, or getting good grades.
Encouraging her hobbies and interests will also help your daughter build up her self esteem as she starts to see how competent and capable she is. Try limiting the media she consumes, especially images that present women as sex objects that can be found in fashion magazines. Help her identify positive female role models from books or even your local community. And never, ever say the "D" word — diet.       
Simple lifestyle changes
Encourage healthy eating, which can be the foundation for a lifetime of good habits, over dieting, which lends itself to unhealthy weight fluctuations and can actually cause weight gain.
The kitchen used to be the social center of the home, the heart of the house. Bring back that old tradition and cook together as a family. This will accomplish two things, bonding with your daughter and getting her to eat again. If she's more involved in the meal prep at home she'll be more inclined to eat the fruits of her labor. It's very hard to turn down a dish that you've put the effort in yourself to prepare. This time together will also give her time to open up more to you.
Get fresh air. Evening walks together can be an opportunity to spend time together and get a little exercise;  the focus, of course, always being on health and not exercising for the purpose of losing weight.
I think with these simple things, a little extra time spent, and some tender care, your daughter will outgrow this hurdle and return to her regular cheerful self over the course of time.
Have a problem that relates to your Catholic life? Let Katrina help! Write to her at AskKatrina@aleteia.org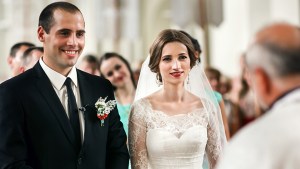 Read more:
Can my Catholic daughter have two marriage ceremonies?