Kempis tells us plainly the secret to holiness.
Attributed to a German priest named Thomas à Kempis, The Imitation of Christ has captured the attention of numerous saints since its publication in the 15th century.
St. Therese of Lisieux wrote about the book, "For a long time I had nourished my spiritual life with the 'fine flour' contained in The Imitation of Christ. It was the only book which did me good, for I had not yet found the treasures hidden in the Holy Gospels. I always had it with me, to the amusement of my people at home."
Here are five quotes from the The Imitation of Christ on the challenging topic of humility.
Every man naturally desires knowledge; but what good is knowledge without fear of God? Indeed a humble rustic who serves God is better than a proud intellectual who neglects his soul to study the course of the stars.If I knew all things in the world and had not charity, what would it profit me before God Who will judge me by my deeds?To think of oneself as nothing, and always to think well and highly of others is the best and most perfect wisdom. Wherefore, if you see another sin openly or commit a serious crime, do not consider yourself better, for you do not know how long you can remain in good estate. All men are frail, but you must admit that none is more frail than yourself.It is the humble man whom God protects and liberates; it is the humble whom He loves and consoles. To the humble He turns and upon them bestows great grace, that after their humiliation He may raise them up to glory[God] reveals His secrets to the humble, and with kind invitation bids them come to Him. Thus, the humble man enjoys peace in the midst of many vexations, because his trust is in God, not in the world. Hence, you must not think that you have made any progress until you look upon yourself as inferior to all others.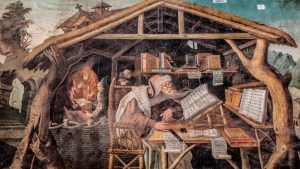 Read more:
5 Profound sayings from the Desert Fathers on practicing virtue