And it's all because the young adults who work there are on the autism spectrum.
Need an idea for Lenten almsgiving?
Help us spread faith on the internet. Would you consider donating just $10, so we can continue creating free, uplifting content?
Make a Lenten donation here
When John D'Eri opened Rising Tide Car Wash in April 2013 with his son, Tom, it was with the intention of providing his son Andrew with a job. Andrew has autism and like many young adults on the spectrum, finding paid work wasn't easy. In fact, the Bureau of Labor Statistics reported in 2014 that only about 16.8 percent of the population with disabilities were employed as compared to 65 percent of people without disabilities.
The D'Eri family wanted to do something about that, and thanks to their efforts and vision, the Florida-based Rising Tide Car Wash now employs over 35 young adults with autism.
The family did a lot of research and learned that a large percentage of people on the autism spectrum are very good at process-driven, detail-oriented tasks. "Most come from a similar life experience," says Tom D'Eri, "They typically have a relatively low opinion of what they can do with their lives. These guys are so excited to be here and want to work hard … They care about every car they work on, do an exceptionally thorough job, and are happy to help the customers … and that creates an environment here that's really rare."
The car wash owners and manager say the business is an amazing place to be, not only because their employees have meaningful work and a paycheck, but because it's become a family. Employees support each other, learn new skills, and grow in confidence every day while taking pride in the work they do to make patrons' cars shine.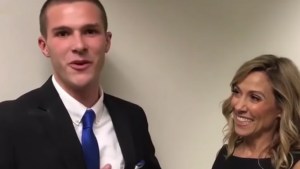 Read more:
This boy with autism learned to sing before he ever spoke (VIDEO)