It was inspired by a woman who spent a year in a concentration camp during World War II.
The French designer Christian Dior and his younger sister, Catherine Dior, spent much of their childhood playing in the gardens of their villa in Granville, a French commune in the Normandy region, where the scent of flowers always brought back the sensation of a happy home.
Yet, with the start of World War II, the Dior family fell on hard times. Christian managed to get a job in Paris as a dressmaker and moved into a small apartment with his sister.
While he dressed the Parisian high society that seemed so far from the historical circumstances, his sister became a member of the French Resistance. In 1944, Catherine was arrested by the Gestapo, and although her brother tried to use his influence with some of his clients, it was useless. Few wanted to get involved in a case that the Germans would consider "treason." Christian spent more than a year in anxiety, not having heard from her, until they finally told him that she was free in Paris, after having spent months at the concentration camp in Ravensbrück. The war had ended.
Catherine moved to the south of France, where the government granted her a position in compensation for what she had suffered. Only one year had gone by, and her face had aged a decade. But Miss Dior did not want to waste time on rancor or revenge. On the contrary, she set out to find the beauty that was still in the world.
She often visited her brother in the capital. By then, he had his own company and was designing his first collection with the most beautiful fabrics.
He also wanted to create a fragrance to accompany what would become his first show in 1947. The reason? While other brands were presenting austere lines in the post-war period, he wanted to give the gift of joy, beauty, and elegance (with his touch of luxury). Like his sister, he thought many people were looking for a "something more" in such difficult times.
He told his perfumers Jean Charles and Paul Vacher: "Create a perfume that smells like love."
And so they did, in notes of gardenia, bergamot, roses, and jasmine … the same flowers that filled the garden where the Dior family spent the most beautiful summers and of which they had the most tender memories.
Then it was time to choose a name. They had several options until one day, while the designer was talking to his friend and helper, Mitzah Bricard, Catherine walked in the door and Bricard (whose mother was English), greeted her: "Oh, Miss Dior is here." In that moment, everything made sense to the designer.
Monsieur Dior filled the entire salon on Montaigne street with this fragrance, and that's how he presented his famous New Look. The great actresses of the moment, like Grace Kelly and Marlene Dietrich, became admirers not only of his clothing, but also of this fragrance that "smelled like love and happiness," surely both because of its floral notes and because of the intention for which it was conceived.
Today, 70 years later, this perfume — with some small changes and with Natalie Portman as its image — continues to be a best seller. And that's how love is: it never goes out of style. As Christian Dior himself said: "Enthusiasm for life is the secret of all beauty."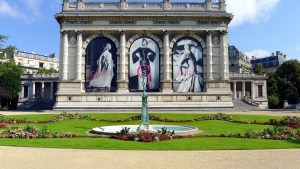 Read more:
Paris will get its first permanent fashion museum
Read more:
5 Common mistakes women make when applying perfume
This article was originally published in the Spanish edition of Aleteia and has been translated and/or adapted here for English speaking readers.