"Text talk" and social media etiquette might constitute a new language.
Ask almost anyone under the age of 30 and they will readily tell you that there is an important difference in a text message between "yes" and "yes."  They could also explain to you the etiquette of "liking" verses "sharing" on Facebook and teach you how to communicate sarcasm with emojis. All these and more constitute the grammar of millennial English.
Copy editor and sociolinguist Deanna Hoak has been sharing some of her observations on Twitter. You can read about this "new" grammar below.
My master's was in sociolinguistics, and I absolutely see this as true. pic.twitter.com/lbHwjSQPYj

— Deanna Hoak (@DeannaHoak) March 4, 2018
The double dot usually means "you need to elaborate," while the triple is something like "are you kidding me?"

— Deanna Hoak (@DeannaHoak) March 4, 2018
More about the texting dialect… https://t.co/rjSying0lQ

— Deanna Hoak (@DeannaHoak) March 5, 2018
https://twitter.com/Rachel_Destross/status/970201597333639168
One Twitter user has suggested the term "digital dialect" to describe this subset of English, but whatever you might call it, this new way of communicating has definitely left its mark on the evolution of the English language, for better or for worse.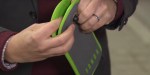 Read more:
Millennial invents brilliant solution to cellphone addiction