Fast take interview on 'Three Secrets to Holiness in Marriage.'
Dan and Amber DeMatte believe that holiness—living as Jesus did—is the key to getting couples to heaven. But how does a couple achieve holiness? By giving and receiving love and living for the sake of others, especially your spouse and children. And you can even find holiness in everyday tasks such as changing diapers, doing the dishes, and cleaning.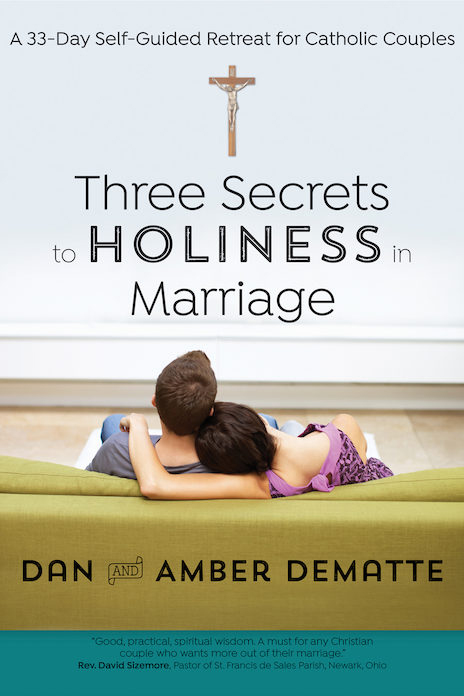 In their new book, Three Secrets to Holiness in Marriage, the DeMattes  help couples achieve holiness through a 33-day, at-home retreat that culminates in consecrating their marriage to Christ.
Dan DeMatte offers his take on the book here.
1) What inspired the book?

Dan DeMatte: Holiness in marriage is difficult. It's hard to be holy when you are raising children, going to work, keeping up with household chores, and managing busy lives. But we wanted to live radical holiness in our lives. We didn't want to blend in to the rest of the world and walk along the wide path that leads to destruction. We wanted to discover the narrow path. Three Secrets to Holiness in Marriage is our reflections on what walking the narrow path looks like as married couples. It is in fact the "more" that you are looking for as a married couple.
2) What story or anecdote (or piece of advice) in this book most personally resonated with you?
Dan: I want readers to know that their marriage isn't for themselves, but it is for the kingdom of God. They exist to bring heaven to earth.
We are created to be a self-gift in every aspect of our lives. Readers are to be a gift with their finances, a gift with their time, a gift with their resources, a gift to their spouse, and a gift to the world.
3) Did writing this book teach you anything?

Dan: I wanted to give God everything but I didn't know how to. These three secrets taught me how to give God everything while living marriage.
4) If there is one person you want to reach with this book, who would that be?
Dan: I want to reach the world. Ha. I want to reach married couples who love their faith but are having a hard time living their faith vibrantly in marriage because of the busyness of life. I want to reach those who have one foot in the Church but are living as mediocre and lukewarm Catholics. I want them to be inspired to give God everything.
5) What is the ideal beverage to have in hand while reading your book? 
Dan: Love this question. Cuddle up on the couch with a glass of wine and pray this retreat together every night.
***
We are a participant in the Amazon Services LLC Associates Program, an affiliate advertising program designed to provide a means for us to earn fees by linking to Amazon.com and affiliated sites.