A new study from Brigham Young University has found that exercise is like food for the brain.
When I first started running many years ago, I discovered something unexpected. At the time I was in graduate school and was often in the middle of writing one paper or another, so I was always composing arguments in my head. Unfortunately, most of these would disappear or degrade significantly before I had a chance to get them onto paper. It was endlessly frustrating.
But what I discovered was that the ideas I had while I was running didn't slip from my memory as easily. In fact, I often came home from a run and headed immediately for a notebook to write something down. More often than not, I was interrupted by my then-2-year-old. Also more often than not, I was able to recall what I had intended to write down after the interruption.
Research is now catching up to what I learned inadvertently all those years ago. A new study headed by Jeff Edwards at Brigham Young University has found that running improves memory by helping to counteract the negative effects of stress.
One group of mice used running wheels over a four-week period (averaging 5 km ran per day) while another set of mice was left sedentary. Half of each group was then exposed to stress-inducing situations, such as walking on an elevated platform or swimming in cold water. One hour after stress induction researchers carried out electrophysiology experiments on the animals' brains to measure the LTP. Stressed mice who had exercised had significantly greater LTP than the stressed mice who did not run. Edwards and his colleagues also found that stressed mice who exercised performed just as well as non-stressed mice who exercised on a maze-running experiment testing their memory. Additionally, Edwards found exercising mice made significantly fewer memory errors in the maze than the sedentary mice.
Of course, in an ideal world our memories wouldn't be degraded by stress because we wouldn't have stress to contend with. Since most of us encounter stress on a regular (even daily) basis, though, it's increasingly clear that exercising is vital to reverse the negative effects of stress and maintain optimal memory and learning skills.
But even if you're living a bucolic, stress-free life, exercise will still improve your memory. The mice that were stress-free but sedentary didn't do as well in the maze as the mice who exercised, proving that exercise not only reverses the negative effects of stress but actively improves the brain's ability to learn and remember.
So liberate yourself from the tyranny of crossword puzzles and Sudoku and go for a run! Your brain and your body will thank you for it.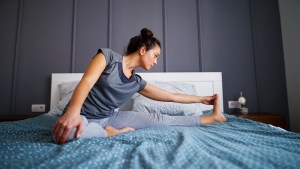 Read more:
Sleep or exercise? Which should you choose on your busiest days?