With the rise of pornographic images popping up on our screens, parents need to know how to respond.
With the proliferation of pornography on the internet, children are being exposed to shocking images at an increasingly younger age. In the short term, the consequences can be disastrous: depression, deviancy, or risky behavior. Equally, there are far-reaching long-term effects: difficulties in constructing a loving relationship, having a degrading image of women, sexual addiction, etc.
We spoke with Sabine Duflo, a French clinical psychologist and family therapist, about the effects of pornography on today's youth and about how we can prevent the devastating effects of being exposed to pornography at a young age.
Aleteia: Why has the battle against pornography that Emmanuel Macron announced at the end of November become such a priority for the French government?
Sabine Duflo: Today's pornography is a far cry from that of our grandparent's generation. It's no longer a question of eroticism. Now it creates the image of a completely dehumanized, automated sexuality, void of any feelings. It conveys a degrading image of women. It is a violent sexuality, where women are in a position of submission, alienation, and totally subservient to the desires of man. Today, children are not at all protected when they surf the web alone. They can come across upsetting violent and pornographic images at any time. This ever present featuring of sexual practices is something unprecedented in our societies. That which had always remained hidden is permanently on show, in plain sight. This exposed intimacy is traumatizing for young children, as it makes them feel appalled, excited, and guilty, all at the same time.
What consequences can pornographic images have on an adolescent?
S.D.: For girls as well as boys, pornographic images separate sexuality from feelings of love, whereas sexuality should be the culmination of a loving relationship. Among boys, pornography gives the message that sexuality is something mechanical, without feeling, and is linked to an obligation to perform. This sometimes creates an addictive usage of pornography on the web, and difficulties when an adolescent falls in love: desire, sexual excitement, and feelings, are no longer properly connected for them.
Read more:
The Soul-Killing, Family-Destroying Curse of Pornography
Among girls, this can create feelings of depression or anxiety, and even suicidal thoughts, because their position has been completely depreciated, and because discovering sexuality through pornographic films is synonymous with total disenchantment. So, we can see a disconnect between loving feelings and sexual practices. In the bathrooms of middle schools, the practice of adolescents carrying out sexual acts at a price is becoming more and more prevalent.
Pornography is not without consequences for the children and the future adults they will become. This is because an adult has to build a loving relationship with another person, and they won't be able to achieve this if they have assimilated a representation of sexuality as an act of violence and alienation.
How can we protect our children?
S.D.: If they have already seen pornographic images, it is very rare for them to mention it to their parents because they are ashamed, and they feel guilty about coming across these images. The best thing to do is to speak to them beforehand, to warn them, and to try and avoid them becoming withdrawn. However, this can be difficult sometimes because they are too young.
You must have simple words at the ready: "If one day you come across shocking images — and they can pop up anywhere on the internet — you are not responsible. It is a big industry that targets adolescents to try and make money. Tell me, get away from the screen, and don't look at these images, as they will make future relationships difficult. One day you will be grown up, and you will fall in love; it is a beautiful experience, and if you look at these images, you won't be able to experience this the same way."
Others may say that you are preaching …
Pornography is not a question of morals, it is a question of humanity, of society. My work is to help children become happy adults who are fulfilled in their relationships with others. Yet, violent and pornographic images attack this work, because they make children believe that sexuality is synonymous with violence and disregard for the other, when it should be the opposite.
This article was originally published in the French edition of Aleteia, and has been translated and adapted here for English-speaking readers.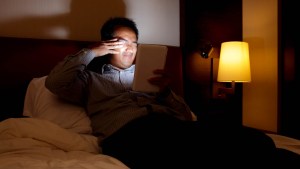 Read more:
What to do when you can't "unsee" pornography