A simple step-by-step guide for crafting a gratitude masterpiece.
Writing thank-you notes has a bad reputation for being particularly arduous. However, it doesn't have to be. The thank-you note can be an art form when handled properly — and it makes such a big impact on the recipient. You can step up your gratitude game with a few simple steps…
The opening lines
How often have you written or read a note that begins, Dear so-and-so, thank you very much for the sweater. It's as formulaic as they come. If you must be formulaic, use a phrase that isn't as worn out. One of my favorites is I can't tell you …
– I can't tell you how grateful I am for the lovely sweater you gave me.
– I can't tell you how much I appreciate your thoughtful gift.  
– I can't tell you what a treat it was to receive your card.
If the gift was given at an event where the gift-giver was present, open with a recap or followup to any conversation you had in person, and thank them for their presence first.
– I so enjoyed visiting with you at the party. It was great to catch up, and I loved seeing your photos of the twins. They are darling! 
– I'm so glad you were able to celebrate with us last weekend. Being surrounded by friends and family made the holidays even more special.
If you received the gift when the giver wasn't present, use the opening lines to describe the scene when you opened it.
– What a pleasant surprise it was when I returned home this evening and found your package waiting for me on the porch!  
– When I opened your gift, I couldn't help but gasp. What a gorgeous scarf! I can't imagine all the time and skill that went into making it.
The body of the note
Usually this is something brief and blasé, like I really like it. It's so pretty. Putting a little more thought and detail into these lines really pays off.
If it's a physical object, describe the qualities you appreciate about it.
– The scarf is so soft and the color goes very well with my coat. I get compliments on it every time I wear it.
– When I set the vase on my shelf, my whole living room instantly looked more elegant.
If the gift is monetary, describe what you did or are going to do with it. (Note: try to avoid calling it "money" or "the check." Refer to it simply as a "gift.")
– I'm so grateful for the gift you enclosed in your card. I've tucked it away in my travel fund for my trip to Paris next spring. I'll be thinking of you while I'm there!
The closing
Most of the time, Thanks again gets tacked on at the end for good measure (and probably to take up space in the card). I firmly believe that you should only thank them again if it's a longer letter and you've talked about other topics between the original thank you paragraph and the closing lines.
Instead, one of my favorite ways to close is to sing the praises of the person to whom you're writing. Make it less about the gift itself, and more about their kindness in giving it.
– It was so thoughtful of you.
– I truly appreciate your generosity.
– How kind it was of you to think of me.
Like anything else, crafting the perfect note takes practice. The more thank-you notes you write, the easier and faster it will become. And it's absolutely worth the effort. A well-written note will make the recipient feel good about themselves, and it will make you feel good for having written it. Expressing gratitude is a sure-fire way to boost your psychological health and overall happiness. So, don't look at those thank-you cards with dread. Look at them as an exercise in creativity, and enjoy the process. You'll be grateful you did.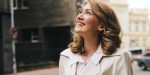 Read more:
The incredible health benefits of saying "thank you"