Cancer survivor Mary Shertenlieb's determination to finish the race was possible because of her marriage.
Mary Shertenlieb finished the 26-mile Boston Marathon last week after midnight, more than 13 hours after she started the race and long after most of the other runners had concluded their celebrations, ditched their soaking wet running gear, and gone home.
While she ran the majority of the race on her own, she crossed the final stretch of the race on Boylston Street hand-in-hand with her husband, Rich. Shertenlieb is a three-time cancer survivor. Her incredible perseverance in the face of so many obstacles earned her national attention, but it was the simple, loving gesture by her husband that made it possible for the three-time cancer survivor to achieve her goal.
While doctors had given the mom of two — who received radiation, chemotherapy and a bone marrow transplant to fight her leukemia — permission to run the race, Shertenlieb's goal was never to win, but to finish in order to give hope to others battling cancer and to raise money for the Dana Faber Cancer Institute, which she credits for saving her life.
She'd been training hard and was ready. But shortly after mile 15, it didn't look like it was going to happen. She had been running for five hours in the freezing rain, and Shertenlieb wasn't prepared for making the journey in the bone-shivering cold, with wet and heavy gear. With many more hours to go, Shertenlieb realized she needed to call it quits for the sake of her health.
She called her husband, Rich, a sports radio host, from a coffee shop where she was warming up, to come and get her — but instead he came up with an idea.
"He goes, 'Why don't you go home, take a shower, change into warm clothes, eat dinner, and then we'll go back out? We'll finish it together,'" Shertenlieb told Boston.com. "'We'll take a cab back to the Dunkin' Donuts at 15.5, and run the whole way back, or jog or walk, however we need to get there.'"
More than 6 hours later, here's the heartfelt moment of the couple crossing the finish line:
Mary final update: at 12:18am Mary Shertenlieb completed the 122nd @bostonmarathon with husband Rich by her side! Mary raised over 30-thousand dollars for @DanaFarber – @Toucherandrich@KenGriffeyRules@wbz#WBZ#BostonStrongpic.twitter.com/ACRNs59cN4

— Dan Roche (@RochieWBZ) April 17, 2018
Shertenlieb raised over $43,000 for Dana Farber, and the donations are still coming in.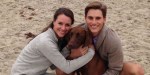 Read more:
Unborn baby with Down syndrome inspired father to run Boston Marathon