After a full priesthood, Fr. Willy Slavin decided to get down to the essentials.
Could you imagine giving up almost everything you own and moving into a hut in the middle of the forest? Father Willy Slavin, a priest in the Archdiocese of Glasgow, Scotland, did exactly that when he reached "retirement" age.
The 78-year-old priest lives in a hut in a remote forest in Scotland. His hut contains a bed, a table, a wood stove and just a few personal possessions. He sees this lifestyle as a graceful way to spend his last years and a way to live in solidarity with the world's poor.
Fr. Slavin has had a rather full priesthood. He entered Blairs Seminary at age 12 and shortly after ordination was sent to Rome. His stay there coincided with the Second Vatican Council and imbued him with the universality of the church. At 35 he was sent to Bangladesh for five years. He told Scotland's The Herald newspaper, "Bangladesh was the best thing that happened to me."
Among other things it opened his eyes to how people really live in many parts of the world and, he said, gave him the courage to express his opinions.
Back in Scotland he was assigned as chaplain to Barlinnie Prison where at the time, he says conditions were worse than what he had seen in Bangladesh.
He ended up becoming the founding chairman of two organization: Emmaus — a homeless charity — and the Scottish Drugs Forum.  
As he got closer to retirement age, he says he began thinking about his life, his ministry, and his mortality. He was inspired by a verse from Psalm 90, "The span of our life is 70 years, 80 for those who are strong."
He began reflecting on what to do with those years after "retirement" age, and the extra years the psalm promises to those who are strong.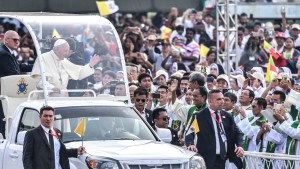 Read more:
Bangladesh: The 3 central issues of Pope Francis' visit
In a reflection Fr. Slavin wrote that was published by Our Lady of Victory church in Whitehorse, Canada, he said he came to understand that "aging is a monastic experience."
To figure out what that monastic experience would look like for him he recalled his time in Bangladesh where he had first seen people living in huts.
When he reached retirement age he joined a Scottish movement called A Thousand Huts, which campaigns to change Scottish law to allow people to set up small huts in the forest, and ordered himself a hut which was set up in the forest on the outskirts of Fife.
"After 70 nobody needs more than a bed, a table and (in Scotland) a wood stove. An iPad will enable communication to say nothing of the joys of a Kindle" he wrote in a reflection.
As a BBC Radio host discovered, Fr. Slavin truly believes what he tells others. The few personal possessions in his hut include a copy of the St. John's Bible which was gifted to him in 2000, an iPad, and a novelty pillow featuring Audrey Hepburn (also a gift, which reminds him of his days in Rome).
Living simply, detached from the bustle of today's world, allows him to reflect on his life so far and prepare for the next life, he said. It also allows him to live in solidarity with the world's poor and reduce his impact on the earth.
He told BBC Radio, "The majority of people in the world live in this situation."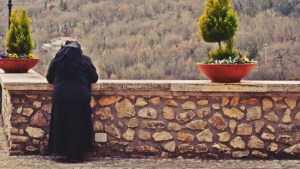 Read more:
This hermit-nun hasn't spoken for 16 years. But here's what she tells us