In this exclusive interview, the 19-year-old talks about his faith, the influences of Hollywood, and his plans post-show.
When Jonny Brenns auditioned for the 16th season of American Idol, he took a bus to the New York auditions alone. His mom and dad didn't even know he'd gone.
The singer was cut from the program last week — one of four contestants who didn't make the final 10. But even though he won't be moving on, his mother and father were in the audience, cheering for their 19-year-old son.
I talked with Brenns shortly before he left the show. Even then, he understood that his time on ABC's national stage would be fleeting, and  he was okay with that.
"The journey overall has been a really cool blessing," he said. "I think it's been an answered prayer for me. … even if it's not a career — even it's just a good memory — at least I had it."
Brenns, whose real name is Jonny Brenninkmeyer, was raised in a Catholic family and attended the Jesuit College of the Holy Cross in Worcester, Massachusetts. Before Brenns landed on Idol, he says that most folks might have heard of him through his mother, Lisa Brenninkmeyer, who founded the ministry Walking with Purpose.
"They've done a really good job" raising him in the Catholic faith, Brenns says of his parents. "Mass on Sundays, confession. Not enough," he jokes, "but a good amount."
He's also quite close to both his mom and his dad, Leo. So not telling either of them about his trip to New York was "weird." But Brenns believed that his parents might think the trip itself was a little weird. I mean, really: What were Brenns' chances?
Turns out, pretty good.
"I just knew that I needed something concrete in order to even have a conversation," he said. "Because to say, 'hey, I'm taking time off from school for a day and go to New York to audition for something I might not even get …' wouldn't have really worked."
But Brenns says he had advocates in Idol from the get-go, and they helped get him in front of the judges as quickly as possible so it wouldn't interfere so much with his school schedule.
It's not as though his family was surprised at Brenns' interest and talent in music. But, if you watched the show, you know that Brenns experienced a little friction early on between his musical ambitions and his family's more grounded sensibilities.
"Music has always been in my life, and our family's life, but it's never been at the forefront," he said. "I've actually bonded with my dad a lot over music, and he loves my music. But it was a transition from me in my room recording for SoundCloud to me saying, 'Hey, Dad, I may be leaving the school that would get me a really good-paying job and try to make my life as a musician.' So that's been a little bit of a bumpy road."
Brenns believed his father might have also been concerned about how the Hollywood whirlwind might impact his son. "He knows me … he knew I was going to be fine, but [at the same time] it's a lot of foreign stuff, and it's a lot of pressure … and I think he might've been worried about how I'd react."
But Brenns reacted well — perhaps in part because many of his fellow contestants were pretty good eggs themselves. He's been particularly impressed with the guys on the show, and their influence helped "me stay on the straight and narrow, and it helps me be a better version of myself. And that's really cool."
He's had some deep conversations with other contestants about their beliefs, too, particularly Cade Foehner. "When I say he's a man of God, he's a man of God," Brenns says. "His behavior, his persona, how he talks, how he acts, it's just — really, I've never seen it before, and it gives me a lot of hope."
For Brenns, faith and music have always been intertwined. He says he does the same things that many Idol contestants have done through the years: "When I step out on that stage, beforehand I pray," Brenns says. "[I pray to] help them see 'You in me.' … That's the only way you're going to be successful in any aspect of life, to be honest."
And Brenns hopes he'll be successful in music, even though he didn't end up winning American Idol.
"My goal is to do something with music, 100 percent," he told me, "but I also want to graduate and get my degree. I just have to figure out a balance."
Watch Jonny's audition song "Blue Jeans" in the video below: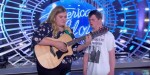 Read more:
"American Idol" contestant inspired by friend with Down Syndrome