Despite the many challenges and obstacles in her life, the famous actress always chose to extend grace.
The luster of certain stars fades after they fall away from the limelight. A rare few seem to grow brighter with time. Audrey Hepburn is one of those … she's as luminous as ever.
Hepburn, who died in 1993, would have turned 89 yesterday (May 4). She moved into semi-retirement 50 years ago, but praise for the actress and fashion icon seemed to only grow. The American Film Institute dubbed her the third greatest female film legend of all time (behind only Katharine Hepburn and Bette Davis). The "little black dress" she wore in Breakfast at Tiffany's is so iconic that it has its own Wikipedia page. Hepburn is so recognizable even today that, oddly, she keeps showing up in commercials (thanks to CGI).
But Hepburn was more than an amazing star. In many ways, she was an amazing inspiring person, whose life was filled with hardship, surprises, and paradox. Let's look at a few interesting facts from Hepburn's life that may encourage us in your own life…
She was born an aristocrat …
Her mother was Baronesse Ella van Heemstra, a noblewoman from the Netherlands. Her father thought he was descended from royalty, too: According to Alexander Walker's biography Audrey, Her Real Story, Joseph Ruston believed he was descended from James Hepburn, the third husband of Mary, Queen of Scots. In honor of his presumed aristocratic lineage, he changed his surname to "Hepburn-Ruston."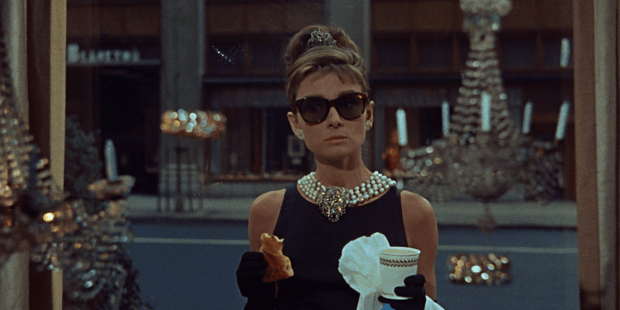 But … World War II nearly destroyed them financially. Audrey and most of her family were trapped in occupied Netherlands, and they were forced to make flour from flowers — tulip bulbs, to be precise. When the war was over, most of their holdings were destroyed, and Audrey's mother, the baroness, was forced to take odd, menial jobs to make ends meet. Interesting that so many of her most famous roles involve Hepburn's character transforming from pauper to princess. In her childhood, it appears to have been the other way 'round.
Her father was kind of a jerk …
Audrey's family suffered greatly under Nazi occupation. But before the war, her parents — especially her father — were Nazi sympathizers. Both were members of the British Union of Fascists, and they toured Germany in 1935. Her father deserted her and her family that same year, which Hepburn later described as "the most traumatic event in my life."
But … Even though she hadn't seen her father since she was 6 years old, she tracked him down at age 30. "I had this great need," she told Parade in 1989. And even though her father Joseph never really softened toward Hepburn, she took care of him financially until his death.
She was a beauty …
In 2004, Hepburn was voted "the most beautiful woman of all time," according to a poll by Evian. A few years later, another poll by QVC declared her to be the most beautiful woman of the century. Though she looked far different than the curvy beauties typically in vogue in the 1950s, like Marilyn Monroe and Elizabeth Taylor, her look is still influential today.
But … She didn't understand the hype about her beauty. "She thought she had a big nose and big feet, and she was too skinny and not enough breast," her son, Luca Dotti, told Vanity Fair. "She would look in the mirror and say, 'I don't understand why people see me as beautiful.'"
She knew six languages …
Want proof? Just take at this video:
But … She was perhaps most eloquent when she was completely silent. Hepburn was actually trained as a ballet dancer, and critics often took note of how expressive her movements were on both stage and screen. During the war, long before she became a movie star, Hepburn and her friends would perform dances to raise money for the Dutch Resistance to fight their German occupiers. Often, though, these performances had to be completely silent so has not to attract unwanted Nazi attention. "The best audience I ever had made not a single sound at the end of my performance," Audrey was quoted in Donald Spoto's biography, Enchantment.
She spent her life in the limelight …
She was one of the world's most filmed and photographed women of all time. Even when she stepped away from her film career in the late 1960s, her charitable work kept her very much in the public eye.
But … Hepburn really preferred to be alone. "I'm an introvert," she once said. "I love being by myself, love being outdoors, love taking a long walk with my dogs and looking at the trees, flowers, the sky." She was so introverted, in fact, that her iconic Breakfast at Tiffany's look — the dress, the jewelry, the outrageously long cigarette holder — were essentially "props" designer Hubert de Givenchy gave Hepburn to help her play the gloriously extroverted Heather Golightly.
One of her most famous roles was famously controversial …
For many fans of the 1950s Broadway production of My Fair Lady, Julie Andrews was Eliza Doolittle. So when Warner Bros. bought the film rights and opted not to cast Andrews as the main character for the 1964 movie — giving the part to the (at the time) better known Hepburn — many were furious. The controversy spilled over into the 1965 Academy Awards: My Fair Lady was nominated for 12 Oscars, and won eight of them, including Best Picture and Best Actor (Rex Harrison). But Hepburn, who'd won an Oscar for Roman Holiday and had been in the running for three others by that point, didn't even get a nomination. Who won that year's Best Actress Oscar? Julie Andrews for Mary Poppins.