If "The Little Flower" turned out so well, then what in the world are we so worried about?
All my life, one of my favorite saints has been St. Therese, who many call "The Little Flower." I loved her as a child for the same reason that many others did — she seemed so accessible. I didn't have to do anything crazy or join a convent or pray 24/7 to make a difference. All I had to do was follow her "little way" and I could rest assured that God would know I was doing my best.
Because I loved St. Therese so much, I read a lot about her over the years, from her own autobiography, to different biographies, such asSt. Therese of the Little Flower: The Making of a Saint, and I was always fascinated with her early life. Her family just seemed so normal. St. Therese herself was a bit wild as a child — she loved beautiful things and she had a working mother. And the more I read about St. Therese as I got older, the more I became fascinated with one of the most important people in her life: Her mother.
Modern day mothers have it hard, and we expect a lot of ourselves: the perfect balance of work and motherhood, exercise, cultivating our marriage, and putting our faith into practice. Surely the mother of a great saint like St. Therese had to be completely, out-of-this-world holy and not at all relatable to mere mortal mothers struggling to keep it all together, like me, right?
Well, not exactly. The more I read about St. Therese's mother, Zelie Martin (now a saint herself), primarily through her own book, The Mother of the Little Flower, the more I've learned that even she couldn't do it all.
Here are some pretty surprising lessons that we can learn from the mother of the world's most beloved saint:
1. Some women are called to combine work and motherhood
You may think that in order to raise a saint, you must be a completely physically present stay-at-home mom, right? Um, nope. Not only was Zelie a working mother, but she also was the breadwinner of the family. She founded a prosperous lace-making business before her marriage and continued working out of her home after she wed and became a mother. St. Therese's father, Louis, sold his watchmaking shop while the children were still young and dedicated his retirement to helping Zelie with her business.
2. "Doing it all" takes help
Even the mother of a saint or two needs a helping hand. Throughout her marriage and career, Zelie employed a lot of outside helpers, including a maid named Louise who helped with household cleaning and tasks. Just remember that next time you feel guilty walking by those unfolded clothes.
As a business owner, Zelie also employed up to 15 people for her business. Her employees looked to her for direction and guidance in both their personal and professional lives.
3. Moms are allowed to have fun
I know I'm super guilty of never stopping to (literally) smell the roses, but the truth is, God made this world for us — and we are allowed to you know, enjoy it. Zelie made a rule of focusing on fun once in a while — and she made sure her children did too. "Are we supposed to shut ourselves up in a convent?" she asked.
4. Even moms of saints need a minute to themselves
We all need a break once in a while. In Zelie's letter to her family, she confessed her desire for that sought-after afternoon nap. "I long for rest. I have not even the courage to struggle on. I feel the need of quiet reflection to think of salvation, which the complications of this world have made me neglect." Same, Zelie, same.
5. It's the little things that break you
Isn't it weird how we can deal with the big things — like a sick family member or a miscarriage or a car accident — but the day-to-day mundane stuff, like squabbling siblings and dirty toilets and traffic, make you feel like you're going to lose your mind? Yeah, even Zelie felt that too.
Nobody is perfect and trusting God can be hard. It's something we can all relate to — we are quick to kneel in prayer during times of need, but when the dishwasher breaks or the kids are fighting over the same toy again, it can be hard to maintain sight of God. The good news is, even Zelie understood this struggle. "It is over little things that I worry most. Whenever a real misfortune happens, I am quite resigned, and I await with confidence the help of God."
6. We all have our own paths as mothers
There's no "one way" to do motherhood or even to become a mother. From birthing nine children to having St. Therese at the age of 41, Zelie certainly didn't worry about conventional motherhood. And, um, it's a good thing she didn't.
7. Mothers are allowed to have their own interests
If you've ever felt guilty for doing work beyond motherhood, this quote is for you. It's been a game changer for me, because Zelie loved the work that God called her to do, once saying, in reference to her lace-making, "I am happiest at my window putting together my Point d'Alencon."
8. Sometimes, breastfeeding is not an option
Most likely due to the breast cancer that eventually took her life, Zelie was unable to nurse her youngest children and instead had to send them out to live with a wet-nurse while they were babies. Not every mom can breastfeed and that's okay.
Taking to heart these lessons from the woman who gave us St. Therese, we can rest assured in the knowledge that we are all doing our best as women and mothers. After all, if St. Therese turned out so well, then what in the world are we so worried about?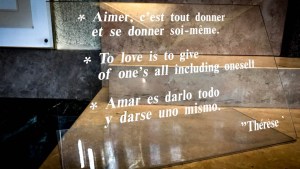 Read more:
10 Quotes from St. Therese that will lift up your weary soul