These effective tips can work wonders with your toddler.
"Education is a natural process. It is based not on listening, but on acquiring experience." – Maria Montessori.
If you want to teach your child to be self-reliant and confident at home, tap into the simple methods of the Montessori school — it really works!
Maria Montessori (1870-1952), one of the first women doctors in Italy, created an education system that allows children to develop fully and freely. The Montessori method comes down to a simple idea: education through play.
Maria Montessori began working with disabled children who needed a lot of attention, care, and patience. But she quickly realized that what helps kids who are developmentally delayed also helps all children. She was against making children sit at desks, and she didn't demand focus and silence. She knew it was much better to let children discover the world through play than to talk at them about it. Today, there are more and more preschools and schools around the world using her methods.
There are a few Montessori methods any parent can use at home to stimulate children from a very early age, according to Marie Robert, the principal of a Montessori school in Marseille, France, in the French magazine Le Figaro. She said it's easier to learn to be responsible and to be a member of a group in a "prepared environment" where everything is simple and accessible to children.
Your child's bedroom
When a toddler starts to move around independently, his home and his room are his world. Have you ever looked at the world from the perspective of a crawling baby, or a toddler taking his first steps? All you need to do is get on the floor and look around. Marie Robert does not recommend cribs with bars or playpens; it's better to let the child sleep on a mattress on the floor and discover his "solar system" from that safe level.
There should be a low hanging mirror, ideally with a stable bar nearby so that the little Christopher Columbus can hold onto it and look at himself in the mirror. You should also include open shelves with simple toys that stimulate the imagination — and not too many of them. They should be stored in a low and safe place, easily accessible to little hands.
Household chores
Even a small child can be independent, and a two-year-old or a preschooler is old enough to participate in household chores. Of course, they just need to be adapted to his abilities.
Once he has mastered the contents of kitchen cabinets with pots and lids, examined the inside of the washing machine, and spilled at least a pound of flour on the kitchen floor, it's time for more serious responsibilities. You can ask a two-year-old to move beans from one container to another.
A six-year-old can certainly help make fresh orange juice. This is also the age when American children start baking by making simple muffins or cookies.
Then, ask them to wipe the counter or sweep the floor. A colorful apron and broom and dustpan will certainly help.
The joy of brushing your teeth
"Did you brush your teeth?" Instead of asking this loaded question every evening, make sure that brushing teeth and the entire complex matter of personal hygiene becomes a fun-filled event. A toothbrush and cup adorned with the child's favorite characters, pretty smelling soap, and a Winnie the Pooh-shaped bottle of body wash will help make daily cleanup feel more like a game than a boring chore. It's good to have a safe step stool so the kids can easily and independently — another Montessori key word— reach the sink.
"Aside from St. Francis, I don't think anyone is able to admire the modest worm or simple smell the way children do." – Maria Montessori
Little gardeners
Gardening is an easy nature lesson — fruit trees and shrubs, a small vegetable or herb garden, snails, critters … You can also create a mini garden on a balcony or patio. Little ones can water the plants (using a colorful watering can) or pick off dry leaves.
Montessori preschools and schools can be found in many large cities and small towns, and you can research them online. Regardless of where your child goes to school, you can incorporate these suggestions in your home daily life, and many others like them. They are simpler and more effective than you think!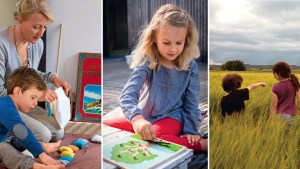 Read more:
Can't afford a Montessori school? Try the toys!
Read more:
The Montessori rule that changed the way I parent