These 6 tips will help you give your summer an out-of-this-world flair
Going on a trip this summer? Why not see if there is a religious shrine nearby your destination and pay a visit. Driving along the highway on a road trip and see a sign for a religious site? Maybe God's inviting you to stop and spiritually renew yourself. But when you visit, how should you prepare yourself? What should you do? Here's a guide for your summer pilgrimage.
1: Learn about the place
With the power of smartphones, knowledge is within your grasp. Google the shrine name and visit their website. Read some of the information available on the web or other articles which might be available on various Catholic platforms (like Aleteia). Or if you don't have time for an internet search, stop by the welcome center of the shrine and see if they have an informational pamphlet. When you know about a place, you will be able to better appreciate it when you visit.
2: Celebrate the sacraments
Most shrines offer daily Mass and times for confession. Many people find it appealing to celebrate the Sacrament of Penance at a shrine because they are a passing pilgrim among many and not known to the priest. Hearing confessions at shrines becomes a charism for the priest, and you probably won't confess something he hasn't heard before. If something has been weighing on your soul, leave it behind on vacation and forget about it forever by surrendering it to God's mercy.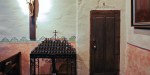 Read more:
I know we encounter Christ in confession, but I wasn't expecting THIS!


3: Spend time in prayer
When you visit a shrine, it's important to spend time in prayer. That's what sets apart a pilgrimage to a holy site from a tourist stop on vacation. Typically there will be a unique place of devotion where most pilgrims stop for a short while and offer their prayer to God. And in that spot, there might be a specific prayer to the saint a pilgrim will pray. Shrines continue to exist because God has heard the prayers of pilgrims throughout the years. Be sure you have an intention in mind for which you want to pray. Maybe it will be for yourself or for someone who is sick or suffering.
4: Light a candle
Shrines typically have devotional votive areas where pilgrims before you have lit candles. Seeing their candles is an excellent reminder that many people have prayed for their intentions while visiting hours or days before you. And like those pilgrims, you will get in your car and continue on your way. Yet the candle remains as a sign that your prayer continues even after you leave the holy site. Check in the gift store and see if they have a card that you can give to the person for whom you lit the candle. A simple gesture will mean a lot to them or bring you peace.
5: Explore the grounds
Be sure to look around the grounds, too. There might be other devotional areas and statues outside. Or there could be prayer walks for the Stations of the Cross or the Rosary. Some shrines cover a lot of territory and there is a lot to see. Make sure you don't miss anything.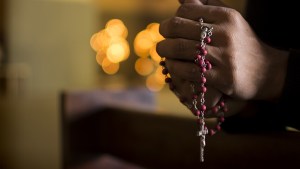 Read more:
Why is the Rosary called the Rosary?
6: Visit the gift shop
Who doesn't love a gift shop? Maybe you can send a postcard to a friend back home or acquire a souvenir to remember the shrine. You probably don't get to a lot of religious stores, so it might be the right time to get the next First Communion or Confirmation gift. Remember that shrine gift shops, unlike tourist souvenir stands, often support the mission and upkeep of the shrine with the proceeds of sales.
This summer, visit a shrine for the first time, or go back to one of your favorite shrines. You'll be happy you stopped, because God will bestow many graces upon you.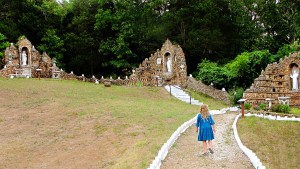 Read more:
Why you should visit a shrine dedicated to Mary this month