Because what if you really stink at Pinterest crafts anyway?
It was an ordinary day at my local library. Cub-sized sons fought for my lap as the pea-green spine of a familiar tale caught my eye … The Giving Tree, by Shel Silverstein. I pulled the age-old favorite from the shelf and a warm breeze seemed to gush forth from the empty gap it left behind, filling my mind with expectation and wonder …
I opened it up.
"Once there was a tree … and she loved a little boy."
Immediately, my 5 year-old stared at the simple pen and ink illustrations in rapt attention. As did I.
"And every day the boy would come, and he would gather her leaves and make them into crowns …"  
If you're reading this, you probably remember the story — perhaps only in glimpses. Or quite possibly, you remember the gist of it, too.
I read on, catching the attention of a few other kids — a couple of my own plus some wide-eyed wanderers passing nearby. And seeing that I'm a sucker for an audience, I gave it my all …
"He would climb up her trunk and swing from her branches and play king of the forest."   
When I came to the last page, we all stared silently at the drawing of the little boy who time and again stripped the tree of her apples and branches and even her trunk to build houses and boats, seeking out his fortune. Now, he's slumped-over, wrinkled and tired. Having nothing left to give, the tree offers her stump:
"Come, Boy, sit down. Sit down and rest. And the boy did. And the tree was happy."
We were all quiet for a while until the heavy-breathing child at my shoulder said, "That's true love," and shivers ran down my spine. Because even though I don't ascribe to random bouts of ultra-introspective guilt-tripping, and even though I'm the first to defend my own brand of olympian-level, multi-tasking momming, I'm also embarrassed to say it had been quite a while since I'd simply sat on the floor and read my kids a book.
And like the tree, it made me happy. So we read a few more. Beginning with Silverstein's other classic, Where the Sidewalk Ends.
"Ickle Me, Pickle Me, Tickle Me Too," My eldest son laughed aloud about the boys who went "riding in a flying shoe where Ickle was captain, and Pickle was crew and Tickle served coffee and Mulligan stew."
In between poems, I told stories about my grandma who first introduced me to Silverstein's books. About sleeping in her log cabin that smelled like pine trees and fried onions. About the lake down the road where you could paddle canoes around an island. I told them about her fridge that was empty except for eggs and tiny "pony" bottles of beer, and then I read Boa Constrictor:
"Oh, gee, It's up to my middle. Oh, heck, It's up to my neck. Oh, dread, It's upmmmmmmmmmmmffffffff …" — the poem about the boy being eaten by, well, you know …
I pointed out Silverstein's mastery of language — his use of alliteration, rhythm, and rhyme. I borrowed a paper from the librarian and wrote out a poem/drawing I'd done in high school — one I'd forgotten about until that afternoon.
Like the tree, I gave them me — not some failed attempt at a lame Pinterest craft or another slapped-together casserole or an obligatory ride to basketball practice.  I gave them me. And we were all happy.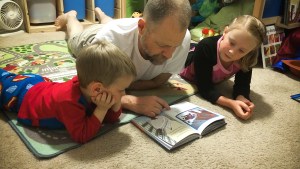 Read more:
5 Great bedtime books for Catholic kids