The Oscar-nominated director considered the priesthood as a teen, and after a "big detour" is again a Christian believer.
Need an idea for Lenten almsgiving?
Help us spread faith on the internet. Would you consider donating just $10, so we can continue creating free, uplifting content?
Make a Lenten donation here
A new film about Pope Francis by one of Germany's most prominent directors is as much about St. Francis of Assisi as it is about the pope himself. And that angle has a lot to do with Wim Wenders' Catholic upbringing.
In a wide-ranging interview in New York, Wenders, who is known for films such as Wings of Desire and Paris, Texas, said that he was already interested in the Argentinian pope when the Vatican approached him with an idea about a documentary on him.
"I said 'Yes, I'd like to talk about it because I have the greatest respect for this man.' I had watched him, from a distance, of course, at that moment already for about a year and loved what he stood for and what he was doing," Wenders said in an office of Obscured Films, on West 25th Street in Manhattan.
Just days after Pope Francis: a Man of His Word premiered at the Cannes Film Festival, and two days before its May 18 U.S. release, the 72-year-old director recalled jumping to his feet while watching the announcement of the election of Cardinal Jorge Mario Bergoglio and learning the choice of his name.
"Taking on that name was gutsy. That was a promise," he said. "That's, in the end, why I said yes, I'd like to do this film."
Like the poverello of Assisi, Pope Francis is a reformer, and Wenders' film focuses heavily on Bergoglio's hopes for reform. But to convey the analogy to a wide audience, some of whom might not know much about the 13th-century friar, Wenders felt he had to integrate the saint's story into the film. The black-and-white vignettes of St. Francis' call look at first to be borrowed from a film from the silent era, but they are Wenders' own production—a film within a film—shot on a vintage hand-cranked Debrie camera.
"St. Francis was a big figure in my youth, kind of a mythical figure, almost, but then again, obviously a real man, who had really followed in the footsteps of Jesus and adopted an attitude towards the outcast and the poor that was totally radical at his time and would still be considered radical today," Wenders said in the interview. "And he was a visionary. I mean, imagine someone 800 years ago realizing something was getting out of whack with our relation to nature, somebody realizing that so early. St. Francis today would be the first ecologist on the planet."
But Wenders had another great influence in his upbringing: his father, a physician who, "in a truly spiritual sense … lived for his patients."
"He considered studying theology but then became a doctor. Believe it or not, when he graduated in 1935, of his class of 18, 16 studied theology," Wenders recalled. "That was during the [rise of the] Nazis, and it was a huge scandal in his city. They all became priests. He was one of the two who decided, after all, to study medicine.
"So he was a great example," he continued. "He lived his faith and believed in it in a very impressive way."
Wenders himself considered the priesthood, at the age of 15 or 16, he said. "But then along came rock 'n roll and movies and pinball machines and all the things that hit a young man in the '60s, and when I studied, along came '68 and I was a socialist student." The year 1968 saw much revolutionary fervor throughout the world, including a massive student demonstration in Paris.
"In a way, I left the realm of the Catholic Church in my studies," Wenders said.
He called the '70s an "age of upheaval," when he was "confronted with many things."
"I went through a psychoanalysis, which wasn't exactly a religious enterprise," he confided. "I was interested in Eastern religions in the '80s."
In the end, he "came back from that big detour to the belief and faith that I realized had never left me. Even as a socialist student, I never lost the belief that we are seen by a loving God, and I was happy to return," he said.
Again, his father was a big influence.
"I was with my father in the last month of his life and took care of him, and he died very consciously, almost looking forward to it, a very positive outlook," Wenders said. "And that really brought me back, and I've been a Christian ever since."
Wenders said that at the time, he was influenced by Christian mystics. While living in America for 15 years he was in a Presbyterian community, "so in a way I've become a Protestant. But today, I don't make a distinction. I have Catholic friends and Protestant friends. I go to both kind of churches. I'm a dedicated 'ecumenical Christian,' if ever there was one."
He said that the writings of Thomas Merton, the Trappist monk and author of The Seven Storey Mountain, "really influenced me in a big way in the 1990s," and today he follows Franciscan theologian Richard Rohrer. "I really like his teaching and his writing," he said.
In the midst of all that, in 2013, his fellow German, Pope Benedict XVI, resigned the papacy, and the College of Cardinals elected the first pope from the Americas, the first Jesuit, the first pope from the Southern Hemisphere, and the first to take that significant name.
Even by following the new pope only from a distance at first, Wenders could tell that he lived what he was preaching.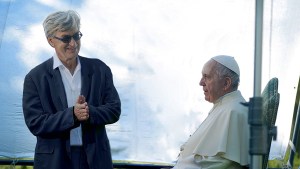 Read more:
Cannes film festival applauds Wim Wenders' film about Pope Francis
"I was impressed with the fact that he renounced the beautiful palace, that he arrived in used Toyotas and little cars, and was walking around in the same old shoes," he said. "I was impressed by his very first acts and visits and the fact that he washed people's feet, and was impressed that he went to places like Lampedusa, that he did all these visits to places where it wasn't pleasant to go. I thought he was on to something amazing.
"Also, when he talked about social injustice, I realized he figured that our entire civilization had lost one of our most simple, basic priorities. It's in all our constitutions, each of our countries, in the West at least: men are created equal. And our economy and our societies don't follow that principle anymore. We continuously create more inequality. And I think addressing that and pointing a finger to that was gutsy. I think he said it to everybody. He said it at the United Nations, and he said it in front of the American [Congress]. He said that we need a different moral attitude today, that we are more responsible than we all acknowledge."
Like his namesake, who is revered by Catholics and non-Catholics alike, Pope Francis has an ability to speak to the world, not just the Catholic Church. Wenders has seen the effects.
"He is speaking from a moral authority that, amazingly enough, many people accept, also many who are not religious," he said. "I've seen the film with lots of people, among them some hardcore atheists, and I saw some of them really touched, even crying. I think he has the capacity to reach people of all religions and of all backgrounds with the simplicity but also with the truth of his position."
The pope's authority, in Wenders' view, stems from the fact that he lives what he preaches and the fact that "he tells a few things that actually nobody's saying anymore."
"And some of these things reach all sorts of areas of life, not only of spiritual life but also our social life, they go into ecology, or social justice. Some of these things, some of his positions really concern everybody on this planet," the director said. His position of "how we exploit the planet and how we treat each other and how we keep excluding more and more people—that is not specifically Catholic or Christian.
"So he does speak to everybody, and looking around, I don't see anyone else with that authority, anybody else who dares to take on a moral authority and say 'We shouldn't be living the way we're living,'" Wenders concluded. "And, considering that we live in a political landscape and on a planet where some of the most powerful people on this planet have no moral integrity to speak of, people turn to Pope Francis because he does have such an authority. And the more I got to know him and the longer I spoke to him, I realized that he had all the right to be that authority."