There are still plenty of reasons not to watch this show, now available on Netflix, but there are some good lessons to draw from it also.
What can God do in your life with one Bible verse a day?
Subscribe to Aleteia's new service and bring Scripture into your morning:
Just one verse each day.
Click to bring God's word to your inbox
Last Friday, Netflix released the second season of 13 Reasons Why — its highly bingeable, super-controversial show predicated on teen bullying, sexual assault, and suicide. Many teens are probably knee-deep in the show already; some have already finished the season.
I've finished it, too. Like the first season, it gives you a whole bunch of reasons not to watch. It's extraordinarily foul, often salacious, very graphic and, at times, deeply disturbing as it's been called out for glamorizing suicide. Even though Netflix has done some work to address those concerns (from offering discussion guides to pointing people to crisis sites and helplines), the second season still might be both troubling and triggering.
But the show's characters can be incisive, too, particularly when 13 Reasons focuses its attention on the delicate relational dance between parent and child. The relationships we see on screen here can be quite telling — even when the characters don't say a word.
"Why is it that kids never tell their parents anything?"
One father asks this of his son, Clay, in 13 Reasons. And it's a reasonable question. Clay, a central character, spends much of his time trying to tell his parents as little as possible. He lies about his relationships. He tells Mom and Dad that he never even thinks about Hannah (the girl who killed herself in Season One) anymore. He sneaks onto his mom's computer. He hides a drug addict in his room. Every time he promises his parents that he'll tell them everything from here on out, five minutes later he's lying again.
We see the same dynamic in play throughout 13 Reasons Why. Teens hide the truth. They minimize their troubles. Sometimes, they out-and-out lie. No teen seems completely honest with their parents here.
Why is it that kids never tell their parents anything? Many a real-life parent has asked that question, too.
Without exception, the parents in 13 Reasons Why love their kids. But none are perfect, and sometimes the blame rests squarely with them.
Take 13 Reasons character Justin and his mom — a drug addict living with a rough, drug-dealing boyfriend Justin calls "Meth Seth." Justin loves his mom, but the less said to her, Justin figures, the better.
But sometimes, even engaged, well-meaning parents can squelch connectivity with their teens. That's the case with Zach, a likable jock whose mother believes she's raising the best kid in the world — and often tells him exactly what to do, what to say and what to feel. You're not still hurting over the suicide of your friend, she tells him in so many words. You're just fine. But he's not. And even when he confronts his mother — telling her that he doesn't know how she feels about his father's death — it doesn't make a dent.
But sometimes, it's not really the parents' fault at all
Why is it that kids never tell their parents anything? When Clay's dad asks this, Clay says something pretty interesting.
"Maybe we're protecting you," he says.
I think that's often true. It was true for me. I loved my parents (and still do). I would've characterized my relationship with them in high school as pretty fantastic. But I didn't tell them half of what I saw or felt. I didn't want them to worry. I didn't want their image of me to be hurt. I kept things from them not because I loved them so little: I kept things from them because I loved them so much.
Ironic, isn't it? As a parent, my main mission in life is to protect my kids — to help them solve the problems and speak into and salve their inevitable pain. But often, kids want to protect us… just as we try to protect our sons and daughters from our own struggles and insecurities. Don't worry about me, we say to each other. Everything's just fine.
In flashback, Hannah (again, the girl who committed suicide in the first season), sees her father kiss another woman. Later, she sees her mother, Olivia, weeping. Hannah's not dumb; she knows her mother knows about the affair. She knows that their marriage is in trouble. But when Olivia turns and sees Hannah, she quickly wipes her tears away and minimizes the moment as much as she can. "Your father and I just had a little argument, that's all," she says, forcing a smile.
Hannah knows it's a lie. Moreover, Hannah is dealing with her own serious issues and, even then, is beginning to contemplate suicide. But she plays into the charade and gives Olivia a bouquet of irises, Olivia's favorite flower. Just for being a great mom, Hannah says. Her own issues go unspoken.
Everything's fine. But it's not.
As foul and as difficult as 13 Reasons Why can be, I think there's a lesson or two here for us parents …
First, talk with your kids. No, that's not quite right: Listen to them. Hear them. Take their issues and heartbreak seriously, even if time and perspective tells you that it's no big deal. Take an interest in their lives, and find as many opportunities as you can to do things together. My daughter and I run together every week, and it's where we do most of our talking. Without that weekly habit, I don't think we'd be nearly as close.
Second — and this is the hard one for me — let your kids into your lives a little, too. Obviously, you need to be careful and age-appropriate with what you reveal. But no one — adult or child — feels comfortable revealing their own problems to someone who, apparently, has none. Let your kids know that you dealt with some difficult things in school, too. Let them know that you have bad days. Let them know you can feel anxious and sad.
Too often, I think, we try to protect each other from the uncomfortable realities of life. That makes sense … to a point. But these uncomfortable realities are still realities, and to pretend otherwise doesn't do anyone any good. And when we acknowledge that — when we let others speak into our own lives and help us through our own pain — we're sometimes granted access into theirs, too.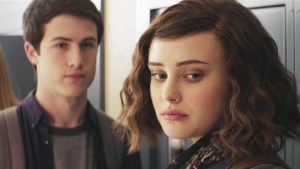 Read more:
Is your teen watching '13 Reasons Why'? Here's why you should be concerned