Keep these 4 important things in mind when looking for a professional who can help.
What can God do in your life with one Bible verse a day?
Subscribe to Aleteia's new service and bring Scripture into your morning:
Just one verse each day.
Click to bring God's word to your inbox
As parents, we're always trying to figure out the best way to provide for our children's needs. But when these needs are related to emotional or psychological issues such as excessive anxiety, noncompliance, or even an eating disorder, it can be difficult to know where to turn.
Recently, I published an article with keys to know when it's time to pursue professional help for your child. But of course that also begs the question, "How do I find someone that will work well with my child?"
Although there are no guarantees, here are a few tips that can help you in seeking out the right therapist for your son or daughter:
1. Always make sure that the therapist involves you as a parent in the treatment, at least to some extent.
Although the amount you will be involved will vary, depending on your child's age and problem areas, it's critical that you as a parent communicate regularly with the mental health practitioner.
Most research-supported treatments involve a parenting component in order to be most effective, and a lack of communication between parents and professionals can hinder progress.
Although youth become better at critical thinking and emotional regulation as they get older, an abundance of evidence indicates that even adolescents need parents in a strong supportive role. Youth depend on their parents a lot and are part of a larger "system" that is their family.
Regular communication between therapists and parents about goals and specific therapeutic techniques (while still maintaining appropriate privacy for youth) is one the best ways to enact and generalize positive change for the long term.
2. Make sure that the therapist has appropriate expertiseto address the particular challenges at hand.  
Although some areas of difficulty — such as depression or relational challenges — are generally well-managed by a wide range of mental health professionals, other challenges, such as eating disorders or OCD, typically require a higher degree of training and/or specialization.  
It is important for parents to get good referrals to a well-trained provider and speak with the professional during the first session about their expertise.
In addition to level of training, research clearly indicates that certain treatments work better than others when addressing specific problems. For example, cognitive-behavioral therapy is a frontline treatment for most anxiety conditions.
It's perfectly acceptable for parents to talk with professionals upfront about the types of techniques/approach they are using so it "sets the stage" for open dialogue.
3. In seeking out a therapist, don't be afraid to talk with school principals, other parents, and even friends.
Although parents might be understandably reticent about talking to others about challenges with their kids, it's important to understand that most of us who are parents understand that youth brings many difficulties that sometimes require professional assistance. Therefore, with a good degree of discretion and confidentiality, one of the best ways to locate a good mental health professional for their child remains "word of mouth."
Snazzy, attractive websites and high visibility do not necessarily mean a therapist is both competent and a good fit. But parents and other professionals, who have either worked with a person directly or through consultation often have good insight about possible therapists, and may provide the most important information in regard to personality style, professional skill, and even other useful information, such as the religious preference of the professional.  
Although mental health issues retain some negative stigma even today, we're fortunate to live in an era where people are much more open and understanding in discussing psychological concerns. This frees all of us as parents to seek out the "inside scoop" when it comes to finding a therapist that will work best for our youth and/or family.
4. Be wary of the fun, supportive therapist who doesn't have a clear direction.
There is nothing wrong with therapy involving certain rewards, such as a game of Uno, or therapists that work to build rapport in casual ways both in the beginning, and throughout treatment. But as a parent looking to help his or her child improve psychologically, simply being "fun" and "nice" doesn't suffice in treatment.
In talking with other parents, teachers, or other professionals — or even during the initial stages of treatment– it's important to get a sense of the direction and focus that a particular therapist is taking. It's great when kids like their therapist. But it doesn't mean change is necessarily occurring, and when a significant amount of time, money, and interaction is being invested, it's important that there is a forward, clear focus. Be sure to ask questions at the beginning and throughout the process if you're wondering where things are going.
Ultimately, choosing a good therapist involves direct, transparent communication and being willing to talk with trusted friends or other professionals about what qualifications and qualities are needed and desired. Nothing guarantees a good, helpful experience, but doing some legwork and asking questions initially will help ensure a successful experience for your child.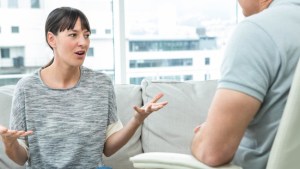 Read more:
Don't be ashamed to go to therapy!