Our spine is one of the most important parts of our body, and is too often neglected.
Contrary to what people may believe, the less you move, the more you can damage your spine. Spinal degeneration is one of the fastest-growing health conditions, affecting people of all ages — even kids. This situation is mostly linked to a sedentary lifestyle. For adults, it may be long hours in front of a computer or long distances inside a car; for kids it may be choosing video games instead of physical activities, or sitting in front of the TV for long periods of time.
According to Dr. Robert Hayden, an American Chiropractic Association media spokesperson, about 80 percent of Americans will suffer back pain at some point in their life, and many will have recurrent issues. A 2015 Gallup survey suggested that more than 33 million Americans sought chiropractic care within a year of that study, representing about 14 percent of the population.
It's a global issue. For example, according to the British Chiropractic Association (BCA), 32 percent of the people in the UK spend 10 hours sitting down every day. On average, 16 hours of the day are spent awake, and 9.4 million British people — mostly the generation between 18 and 29 years old — spend over 75 percent of that time sitting down. The research done by the Association found out that around 50 percent of the people who work behind a desk refuse to leave their place even for lunch. Another trend that they registered is that people no longer prefer to spend the day out when they have free time; on the contrary 62 percent find it more appealing to spend the afternoon on the couch.
Our spine is one of the most important parts of our body, providing not only support, but also protecting our nervous system, our spinal cord. However, most people don't pay enough attention to its care — on the contrary, most people have bad posture, thus hurting the whole spine in the long term, and they engage in activities and movements that eventually diminish spinal health.
Here's where the term "spinal hygiene" becomes important
Spinal hygiene is a group of good practices that promote and preserve overall spinal health — done mostly at home, but regular checkups with a specialist are also recommended.
"In short, if your back does not move, you won't either," Dr. Hayden says. "Whether you are an athlete who demands performance out of your spine, or you are an office worker whose job demands long periods of sitting, your spine is an integral part of your ability to function. Take care of it so that you can enjoy life to the fullest."
Poor posture has a direct effect on our health. Some of the biggest problems it can cause are decreased lung capacity; higher risk of heartburn, since it increases the pressure inside the abdomen; an increase on the risk of constipation; and it may provoke recurrent headaches. However, it's not only physical health that is affected — emotions can also be influenced by bad posture. A study in the Journal of Bodywork and Movement Therapies suggests that postural abnormalities can affect the emotions and vice versa. It particularly emphasizes the relationship between anger and body posture, showing that a hunched position is likely to encourage feelings of anger.
How can you have good spinal hygiene?
Let's start with the things you can stop doing. For example, lack of exercise, weight gain, heavy lifting, and long periods of sitting. "Also — and just as important — pay close attention to your sleeping situation," Dr. Hayden explains. "Learn to sleep on your side with a body pillow so you can support your upper arm and leg in such a way that your spine is better aligned when you rest. Use just enough pillow under your head to keep your head level so that no stress points develop in the neck. We spend 25 to 30 percent of life in bed, so posture is important there, too."
Spinal hygiene is strongly linked to good posture, because aligning the spine properly will allow all of your organs to be in the right place without adding pressure to them. How to tell if your spine is straight? If you can move your back fully, and symmetrically, then that's a good sign. Another fact that is linked with spinal hygiene is strength. The muscles around the spine and the core muscles should be strong so that your backbone will carry less of the weight and will be free to move; your muscles will be doing all the heavy lifting instead.
Other than getting rid of your bad habits, Dr. Hayden suggests the following good practices: "Keep your weight under control; obesity puts significant wear on a skeleton. Look at your work station and think ergonomically: Is your chair working for you? Is your computer screen at the right height (eye level)? Do you have to twist and turn often? (twisting is terrible for your back) Do you have to sit for long periods without moving? Teach yourself to maintain good posture. It not only makes you feel better, you will also look better and feel better about yourself."
In a nutshell … what should you do?
The American Chiropractic Association recommends the following spinal health tips:
If your knees are slightly bent there's less pressure on the spine.
Your neck should be upright so your head is not falling to any side.
Avoid twisting, keep your back straight, especially when lifting something.
If you have to move something heavy, push it, don't pull, because your legs will help.
When sitting, keep your back straight and your knees lower than your hips.
Avoid slouching.
If you have to pick up something from the floor, kneel, don't bend over.
Do you like to sleep on your back? Place a pillow under your knees. If you prefer to sleep on the side, place a pillow between your knees.
When talking on the phone, avoid pinching it between your ear and shoulder.
Take frequent breaks to stretch when you have been sitting for long hours working.
If you regularly use a backpack to carry heavy things like textbooks or a laptop, use both straps of the backpack; avoid carrying it with one shoulder.
Looking down at your phone can hurt your neck. Hold the phone straight out in front of your eyes
Daily exercises for your back
Take a 10 minute break at work when you feel you have been sitting for a while. Wake up 5 minutes earlier and start your morning with a good stretch, or do it as you get home after a while in the car. It doesn't require much time, so whenever you have a few minutes engage in this healthy habit.
Lean against a wall. Your heels, buttock, upper back and head should touch the wall. With your arms down, inhale and then press back your head and arms while exhaling. Repeat a few times.
Lift your arms as if you were drawing a Y and hold the position for about 15 seconds. Then lower your elbows, drawing a straight line between the left elbow and the right one. Your hands should remain pointing upward. Hold for 15 seconds. Then extend your arms in a long horizontal line and hold once more.
With your right hand, pull your left arm down across your back. At the same time flex your head to the right and hold for a little while. Repeat on the opposite side.
Draw circles with your neck to one side slowly, then rotate to the other side. Flex your neck back, and then to the front, as if nodding yes very slowly.
Keep your knees straight and slowly bend forward as if you wanted to touch your toes. Flex as much as possible before you feel any pain. Hold for 15 seconds. Then straighten your back and bend backward as much as possible, place your palms against your lower back for support.
Remember, pain is NOT normal
As funny as it may sound, people get used to pain, so much so you may even start thinking it's normal. Well … it's not. Pain, even if it is "tolerable," is a sign that something is wrong. As a matter of fact, it is precisely when pain is tolerable that you should visit a specialist, because something can be done at this point; whereas if you wait until it hurts too much, it may be too late to cure it.
Dr. Robert Hayden stresses that if your back pain does not resolve on its own in a day or two, it's important to get it checked out. There are also a couple of scenarios that you should never ignore, when it's important to see a professional: if your back pain is severe; or if your back pain radiates to an arm or leg, there may be a nerve involved.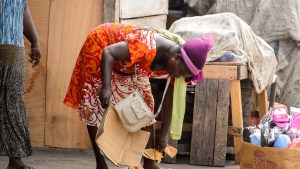 Read more:
This simple habit done dozens of times a day is ruining your back