As this popular video shows, parenting doesn't end at sunset.
What can God do in your life with one Bible verse a day?
Subscribe to Aleteia's new service and bring Scripture into your morning:
Just one verse each day.
Click to bring God's word to your inbox
Melanie Darnell, known in social media as fitmomma4three, did an experiment. She placed a night-vision camera over her bed to record the night's activities. Over a million people have watched the result. What is so special about it? Well, Melanie went to bed at 10 p.m., but less than an hour and a half later she had to get her toddler (who was presumably crying). First, he moved around a bit, changed his position a good number of times, and he helped himself to a snack. Then, at 1 a.m., the happy twosome was joined by the older child. After half an hour of wiggling and moving, she takes the older one back to her room. All too soon, the younger toddler is waking his mother up in the morning.
Zombie-parents and their non-sleeping children
Okay, let's face it — parents just don't sleep much. It's a well-known fact that infants can be difficult and need to nurse multiple times through the night. But sometimes it doesn't seem that much better as they grow.
As an experienced mother, I never believed all those stories about zombie-parents and children who don't sleep all night. My baby son caught on to the day and night rhythm and the fact that when it's dark people sleep rather well. Mostly. I was almost ready to fall in ecstasy that I lucked out with a well-behaved example of a child, and then my son turned two.
Suddenly, he started waking up multiple times per night. A drink, a hug, something else … Soon, we figured out that the best solution for nighttime waking is the parental bed. And of course, right between mom and dad, is best.
Lack of sleep = catastrophe!
Unfortunately, I wake up with the slightest disturbance, so, for more than six months now, I haven't slept an entire night from start to finish without any interruption.
Sleep is incredibly important; if affects our daily functioning, our health, and even our relationships, since a lack of sleep not only makes us tired but also puts us in a bad mood and poor frame of mind.
So I want to share with you my survival methods …
1. Don't fight the fact that your child is not sleeping the whole night in his own bed
Sooner or later, your child will go back to his own bed (I hope!). The fact that for now he shows up in your bed in the middle of the night is a temporary thing. Looking at it this way can change your perspective on the problem and allow you to see the light at the end of the tunnel.
2. Invest in a very big bed
If your marital bed is narrow, and your child suddenly loves sleeping with his parents — and especially if you are thinking about another child — invest in a big bed. King size. And be prepared for it to be too small. I have a huge bed, and most times I sleep at one edge, my husband at the other edge, and our son, fully stretched out across the bed between us.
3. Try to sleep whenever you can!
When my son was a baby, he took many naps a day. During that time, I would reach the peak of my creative abilities. Laundry, cleaning, cooking, writing — in a word, everything that needed to get done that would be difficult to do while holding a baby. I never listened to the advice of those more experienced mothers, who suggested I take advantage of the baby's naps to sleep. Today, when my two-year-old takes an occasional nap, even though the laptop is calling my name, and all the chores are pulling me in their direction, if I slept less than five hours at night, I lie down right next to the kids, and we snore together. This way I can regenerate a little bit.
4. Share your responsibilities justly
I'm not saying equally, as sharing can never be perfectly even. With child raising, as with everything in family life, each couple has to put their heads together to figure out who does what, according to work schedules, sleeping patterns, temperaments, etc. Both parents need sleep in order to function well during the day, whether at work or taking care of the kids at home. In our case, my husband and I agreed that he'd be the one to get up at night to deal with the kids.
5. Take it with a sense of humor, even if it's dark!
Yes, I know it's easier said than done. But these are the stages and experiences in the life of a parent, and the only thing you can really do is laugh them off. Laugh at yourself and the situation. What else can you do if beet soup or carrot juice lands on your new (white) dress? Or you go to the bathroom for two minutes and your little one redecorates half of your home with paint or play dough? Or when you don't remember the last time you slept more than seven hours undisturbed?
Take it with a laugh, and good luck to us all!
Read more:
5 Strategies for getting better sleep in fewer hours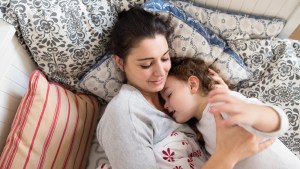 Read more:
The truth about babies and their "bad" sleep habits