Women in the workplace shouldn't let fear of failure hamper them from pursuing their dream jobs.
What can God do in your life with one Bible verse a day?
Subscribe to Aleteia's new service and bring Scripture into your morning:
Just one verse each day.
Click to bring God's word to your inbox
Any woman in the corporate world has likely heard the oft-repeated statistic that women tend to apply only for jobs that they meet 100 percent of the qualifications for, while men routinely apply for jobs when they meet only 60 percent of the qualifications.
I've definitely experienced feeling underqualified to apply for jobs even when I meet the requirements. My most recent application was to be a trainer with Camp Gladiator, and I battled a surge of imposter syndrome as I worked on my resume.
"Who am I kidding," I thought to myself. "I don't have the qualifications to be a group fitness trainer!" I was convinced they would see right through me, despite the fact that right there on my resume were the classes I had taught as a taekwondo instructor.
Needless to say, they did not see right through me — almost certainly because there was nothing to see through. The only qualification I was missing was my personal trainer certification, which I obtained from the highly-respected National Academy of Sports Medicine shortly after I submitted my resume. But I was still surprised when they offered me the job, and I still find myself wondering daily when someone will realize that I'm not qualified for the job I'm already doing (and doing well).
Jody Allard recently detailed her similar experience of job hunting more like a man over at The Lily,where she discovered — much to her surprise — that being underqualified for a job didn't mean she wasn't the perfect candidate.
Once I landed the interviews, I began to worry about whether I would make it to the next round. Or would my interviewers politely brush me off once they realized I was only 70 or 80 percent qualified for the position I'd applied for? One of my first phone interviews seemed to confirm my fears. Midway through the interview, the hiring manager said the words I had been dreading: "I'm not sure you have the skills I'm hiring for." As I contemplated whether it was actually possible to die of embarrassment, she continued: "But maybe that's not the most important thing." She grilled me about my skills and experience, and I was certain I was out of the running — until she asked me to come in and meet the team.
Like me, Allard landed her dream job despite the fact that she wasn't fully qualified for it. Although she offers an interesting perspective on gender dynamics in the workplace, I'm more taken with the idea of women learning to build confidence in our capabilities.
I was — and am! — 100 percent capable of leading group fitness classes. I do it 10 times a week, often more, and I love every second. My campers give me good feedback and my classes are slowly but steadily growing.
Deep down, I knew I was capable of doing this job, but I was hampered by my fear that I would fail. Like most fears, it wasn't rational — but it nearly torpedoed my decision to apply in the first place. I'm so glad I didn't let it.
As women, we should remember that failure is not the worst thing in the world. In fact, it's a learning experience like any other. But we'll never learn what we're capable of if we don't take risks and try things we think we might not be 100 percent perfect for. The truth is, it's those things that will provide us with the challenges we need to learn, grow, and adapt.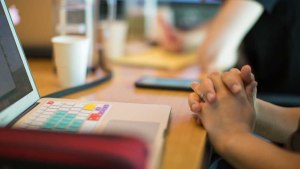 Read more:
4 Powerful prayers to pray before work