These young people were not afraid to give their entire selves to Jesus Christ, no matter what their peers said.
In today's world young people are growing more distant from the practice of religion. A recent survey confirmed this reality, noting that "[m]ore than one-third of millennials now say they are unaffiliated with any faith."
It is an alarming statistic, one that can cause despair if seen in the wrong light, thinking that the youth are forever lost.
The good news is that young people in every generation have discovered the emptiness of the world's allurements and chosen to boldly live out their Christian faith no matter what their peers would say.
If you need any convincing, check out these 11 heroic saints who all died in their 20s. They went "all in" on Christ and embraced Catholicism with every fiber of their being. They didn't see rules as a hindrance, but found the Church's laws gave them true freedom to be who they were meant to be.
Click "launch the slideshow" in the image below:
Launch the slideshow
Read more:
Youthfulness no obstacle to holiness, says Vatican official in charge of saints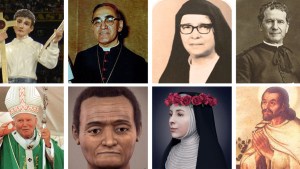 Read more:
Meet the patrons of the Panama World Youth Day